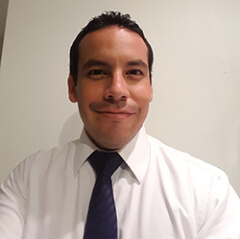 Erick Vega and Kevin Mondragón have recently joined Teldat's LATAM business unit team (Mexico), continuing Teldat's commitment to grow in Latin America.
Erick Vega holds a Telecommunications Engineering degree and a Master's in Business Administration (both from the National Autonomous University of Mexico) and an impressive career history. He has worked for the main Mexican carrier for 12 years, where he was part of the technical operations and support team for the service provider's networks.
In Teldat, he will be in charge of the pre- and post-sales national support team, which covers all Teldat customers in Mexico. His job will include working with service providers and channels, etc., who collaborate with Teldat, supplying end customers in banking, pharmaceuticals, manufacturing and other fields.
Kevin Mondragón is currently finishing his Telecommunications Engineering degree at the National Autonomous University of Mexico and is joining Teldat in their post-sales support team. His job will involve analytics, investigation and diagnosis in the technical areas for our end customers and telecommunication carriers.
In their free time, both Erick and Kevin enjoy sports. Erik is a gym and crossfit fan, while Kevin can be found on a football pitch. Eric also mentioned that his chief pleasure comes from spending time with his family.
Welcome to Teldat Erik and Kevin!