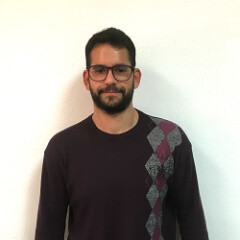 Juan has recently joined the R&D department and will be working with our SD-WAN team to fully develop and enhance Teldat's solution.
Juan holds a degree in IT Engineering from the Carlos III University (Madrid) and comes with ample experience gained from previous employments. He has worked for one of the largest Spanish financial groups as web developer, primarily focusing on microservices and APIs. He was involved with CMS construction for 360audience, where he gained considerable grounding in visual esthetics and user experience.
Now in Teldat, Juan has joined the SD-WAN team (R&D) to develop SD-WAN solutions for SMEs. This project particularly focuses on SMEs in Germany, where Teldat has substantial presence. Juan will be collaborating on the frontend development of SD-WAN, where user experience is largely tied to small and medium-sized companies.
When not at work, Juan enjoys playing rugby and is part of a team that plays in Madrid. He believes rugby is the sport that best embodies team values. He also likes to hike whenever he has time, to unwind from the daily routine and be at one with nature
Welcome to Teldat Juan!