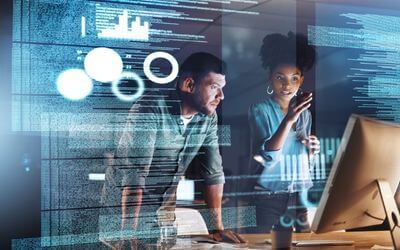 The world of corporate telecommunications is undergoing a technological transformation. We have gone from connecting branch office networks through expensive circuits (to ensure users have access to data center-hosted applications) to scenarios where people and services are connected through hybrid networks (MPLS, Internet, 4G/5G), regardless of whether users work in or outside the office and whether applications reside in data centers or are cloud based.
At the same time, it is becoming increasingly important to increase WAN security and access to cloud services and Internet applications. Today, networks and security are converging both from a technological and organizational point of view. All these factors force corporations and administrations to take on important challenges when deciding how to deal with this new paradigm.
COMPANY NEEDS AND CHALLENGES
Most medium and large companies are realizing the significance of these changes. They understand that it is essential for them to transform their communications infrastructure by opting for a model that allows them to deal with technological changes in a flexible and efficient manner.
Because of the diversity and complexity of scenarios, these companies must face the modernization of their WAN networks to address the growing demand for bandwidth, optimize traffic based on their current and future applications, and consider the use of hybrid network architecture, which will allow them to become more flexible and cost-efficient with regard to operator services.
Another priority for companies is improving security, especially now that they have moved to the cloud and the Internet and maintain hybrid work scenarios with users both inside and outside the company.
On the other hand, and equally important, companies also face requirements related to the development of their business, such as digital transformation and a data-driven strategy. The higher the degree of a company's digital and technological maturity, the more open it will be to migrate to a network management model that allows separating the control and transport planes, to provide a flexible and open response to these challenges.
SD-WAN
The answer to these challenges is SD-WAN (software-defined wide area network). SD-WAN uses a centralized controller, sitting in the cloud (SaaS) or on client premises, to manage traffic securely and intelligently across the WAN and cloud services. This enables abstracting the different transport networks (underlay), thereby decoupling the company network from the network provider.
This optimizes hybrid network architectures and multi-cloud IT environments, focusing on increasing application performance and delivering a high-quality user experience.
MULTIPLE REASONS FOR MIGRATING TO SD-WAN
There are many reasons why companies and administrations have made the decision to migrate to an SD-WAN solution, and why those that have not yet taken the step should consider doing so. While timing will depend on the specific needs of each company, here are some key factors to consider:
Increase the performance of critical applications: SD-WAN allows establishing application-based traffic routing policies and setting service level agreements (SLAs) to dynamically route traffic along the best available route at any given time (MPLS, Internet, Overlay, Underlay, etc.).
Improve security: SD-WAN provides a platform for network and security convergence, offering end-to-end security, segmentation and enabling the integration of secure access perimeter server solutions. The SASE architecture combines VPN and SD-WAN capabilities with cloud-native security functions, usually delivered from the cloud as a service.
Reduce connectivity costs: SD-WAN allows cheaper Internet connections instead of relying exclusively on expensive MPLS connections.
Increase flexibility and scalability: Transport networks are easily added, removed or changed centrally, providing great flexibility in adapting to changes in network demand. In addition, SD-WAN allows network device configurations to be changed transparently to the user.
More agility in provisioning and deployment: Pre-integrated and self-configurable SD-WAN devices can drastically reduce the time to connect new sites and simplify the management of IT personnel, enabling ZTP (Zero Touch Provisioning).
Once a company decides to migrate to SD-WAN, it must make two other decisions: who to choose as a trusted technology partner and whether to use its own resources or outsource network management to a managed services provider.
SD-WAN technologies have reached a high level of maturity and their adoption by companies has advanced significantly in the last three years.
Teldat's SD-WAN solution is trusted by operators and large national and international clients from different sectors (banking, public administration, retail chains, transport, etc.). Teldat designs and develops its own SD-WAN solution and has a large installed base of SD-WAN compatible devices across the globe – more than 500,000 connected to MPLS networks.