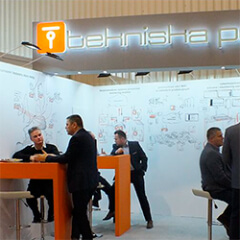 Between 20th – 23rd March, Tekniska Polska, a Teldat partner in Poland was an exhibitor at the 24th International Trade Fair for Industrial Automation 2018 (Automaticon 2018). An interesting event which this year had over 300 exhibitors with nearly 600 brands and over ten thousand visitors. Our partner presented industrial communication solutions and they were pleased to present Teldat devices and software solutions as part of their portfolio.
Independently, apart from working with Teldat in the industrial automation market, Tekniska Polska also undertakes Teldat solutions for other key sectors such as the transport segment. They are most interested in our H2-Automotive+ communication platforms for vehicles and the added value that we offer via our SaaS product suite for mobile environments, which includes the specific CNM Mobility software to manage all Teldat devices from a central location.
We would like to thank Tekniska Polska for their time and investment at Automaticon 2018.