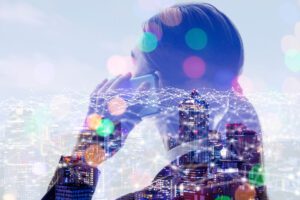 Today's society is one in which we have become accustomed to having everything instantly, in which we are no longer patient, where neither waiting times nor delivery times have a place. Time is no longer negotiable, we want everything and we want it all now.
What retail company, supermarket, food stall, etc., can consider waiting weeks or months to operationally start a point of sale? We are under the (erroneous) assumption that anything related to technology should be instantaneous. Nowadays companies are encountering 3-7 week delivery times from their communications service providers from the moment services are requested. And why not use an existing network, why not use cellular networks which, even though you don't see them, cover 95% of any country's territory.
Mobile networks have evolved to such an extent that, fueled by massive private use, they have benefitted the corporate world.
The advantages of this medium compared to fixed networks are:
• Download speeds and, above all, upload speeds are higher, and we also see improvements in terms of pings.
• Plug & Play offers an immediacy that cannot be rivalled; setting up a store, cash machine or business doesn't take weeks to complete.
• Price – mobile phone network offers, be they Internet or private APNs for companies concerned about security, are much more competitive; more bandwidth at a lower cost.
• Coverage – checking whether your service provider has deployed fiber in the region is no longer necessary; cellular network coverage is 95% in most countries.
There will always be companies that take a very careful approach to this type of technology, alleging inadequacies in terms of network security and stability. True, fixed networks are much more secure and stable. But there's always room for improvement. Large companies have the capacity to request their own private cellular networks, managing to obtain a radio spectrum for their own use or today's most effective solution – private APNs that match the VPNs so often used in fixed networks. And in terms of stability, the reduced cost of cellular services means you can have a second or even a third provider, so that you have several mobile links working in active-active mode with one acting as backup. We double our bandwidth, availability and stability.
If we really need a rapid yet effective network deployment that works, we must look to cellular technologies, which can give us the immediacy that the current business world needs.
We at Teldat have been developing cellular routers ever since the first companies started using cellular networks for corporate communications.