1. Information and policies on the Teldat S. A. cookies
The TELDAT S.A. webpage like many other portals in Internet use cookies to improve the user's browsing experience by analyzing the use of the web. Our cookies or third party cookies, which we use, do not acknowledge any user personally. In this page we `simply provide information about what the cookies are used for, and how to the use them in your web search engine.
2. What are cookies?
Cookies are small text files that store information in your pc when you visit their webpage. They are widely used with the aim of making the web function or function in a more efficient was, as well as providing information to the website owners on how the website is providing on to the proprietors on the use of their web.
There are many different types of cookies and forms of classifying them: (a) Depending who the entity is who manages the domain from which the cookies are sent and treat the data obtained, there are two types: own cookies and third party cookies. (b) There is also a second classification depending on the time they are stored in the client browser, which could be session cookies or persistent cookies. (c) Lastly, there is another classification with five types of cookies in accordance with the aim for which the data is processed: technical cookies, personalization cookies, analysis cookies, advertising cookies and behavioral advertising cookies.
For further information on this please see the Data Protection Spanish Agency Guide on how to use the cookies. You will find a general description of each type for more detailed information on how we use each type of cookie.
3. Necessary Cookies
Necessary cookies help make a website usable to enable basic functions such as browsing the page and accessing the secure areas of the webpage. A website cannot function properly without these cookies. (a) civicCookieControl this is the cookie that stores your selection to display the cookie message or not. This cookie lasts for one year. (b) PHP session cookie: PHPSESSID is native from PHP programming and allows websites to store state data that pass through more than one page. In our web site this is used to establish a user session and to transmit status data through a temporary cookie, which is commonly known as a session cookie. As the PHPSESSID cookie has no expiration date, it disappears when the client is closed. (c) Login Cookies: When a registered user logs in on the web the WebTeldat2009_autologin, WebTeldat2009_username and WebTeldat2009_password (encrypted content) cookies are saved to manage their state. The cookies are stored for one year.
4. Customized Cookies

Customized cookies permit the website to record information that changes the way the page behaves or the aspect it has; e.g. your preferred language or the region where you are located. Language selection: this is a WebTeldat2009_Idioma_cookie (proprietary) that saves the language selection for that site for a year.
5. Analysis Cookies (web statistics)
Statistics cookies help website owners understand how visitors interact with the website to anonymously collect and provide information. Our website uses Google Analytics, a web analytics service developed by Google, which allows the measurement and analysis of navigation on websites. In your browser cookies you can see four five of these service cookies (google.com with _ga, __utma, __utmb, __utmc, __utmz names). This deals with proprietary cookies for session and analysis. Depending on how the page is configured, this can also register the data in a different way using doubleclick.net differently but it has the same goal. Through the Google Analytics web analytics information you can collect information relative to the number of users accessing the site, the number of pages viewed, and the frequency and repetition of visits, duration, the browser used, the carrier providing the service, the language, the terminal being used or the city which it's IP address is assigned to. This information allows a better and more appropriate service from this website. You can find more information about it or choose to disable Google Analytics. Google has more information available about their remarketing privacy, Policies and Restrictions.
6. Advertising and behavioral advertising Cookies
Marketing Cookies are used to track visitors to web pages. The aim here is to display relevant and attractive ads to the individual user, and therefore more valuable to publishers and third party advertisers. It is worth noting that the deactivation of advertising cookies does not mean you will not see ads, just that your interests will not be adapted to recent navigation. (a) Google AdWords: We register with a conversion cookie if a user has come from one of our Google AdWords advertising and has contacted us through one of our forms. This information helps us to understand which ads work best. To this end, Google sets "Conversion" cookies and PREF (google.xx where XX varies depending on the country). (b) Remarketing: We use analytical data and the doubleclick cookie to serve our ads on Google AdWords in third party websites , based on previous user visits to our website. Visitors to the site may opt out of the doubleclick cookie by visiting the Google cookie disabling page or can choose not to allow tracking with Google Analytics, by visiting the Google Analytics disable page. Google has more information available regarding their guidelines through their remarketing privacy, Policies y Restrictions.
7. Other third party cookies
Third party cookies may be installed even if they are not the users registered in the corresponding platforms, and they will not contain any personal or relevant information. Often this case arises when clicking on ont of the social buttons that browse the corresponding third party website. In reality we are not the source of the cookie. We will now list the most common cookies for each platform (the cookies can vary over time): (a) Google+ maps and local: test_cookie , NID , OTZ, PREF, channel ID. Its purposes are described in Google cookies page. (b) Facebook : datr, reg_fb_gate and reg_fb_ref. Its purposes are described in the Facebook cookies page. (c) LinkedIn : JSESSIONID, visit , bcookie , S -LI -IDC, L1e, X -LI -IDC, _qca, RT, __utma, __ utmb, __ utmc, __utmz, __ utmv, leo_auth_token, lang. Its purposes are described in the Linkedin cookies page. (d) Twitter: guest_id, __utma, __ utmb, __ utmc, __ utmz, original_referer and _twitter_sess. Its purposes are described in the Twitter Privacy page. (e) YouTube: YSC, PREF, VISITOR_INFO1_LIVE, PREF. YouTube likes to know that we have embedded your video and added relevant information. For more information see the YouTube privacy page. (h) Flash Data : A special case , because its domain is an s.ytimg.com, but it originates through YouTube videos that use Flash. ytimg.com stands for "YouTube image ". YouTube images such as thumbnails and icons come from that domain. When you upload a video to YouTube, YouTube will hang that video using an image from a section of the said video and this image will be that one that will always be seen when we have not clicked on play. At the same time, the settings.sol flash cookie stores our preferences if we hit the right mouse button on the video. More information…
8. Configuring the use of the cookies
This site doesn't need to use cookies in order to run, but you need to take into account that if you disable them in your browser, many sites will stop working properly or may lose useful information, if you don't remember to activate them again. We have summarized how to deactivate or activate the cookies depending on the browser you are using. Through the links in the titles you can also access the help page for each manufacturer. (a) Internet Explorer: Click on the "Tools" button that is located in the browser menú and select "Internet Options". Click on the "Privacy" tab and move the scroll bar to adjust the privacy to your needs. (b) Firefox: Click on the "Tools" button that is located in the browser menú and select "Options" and select the "Privacy" tab. In the "History" section you need to select the "Use a personalized configuration for the history" option. Check (tick) the "Accept cookies" option to activate it or leave it unchecked in order not to accept them. Firefox also has an option to choose the duration of the cookies. Click on the accept button to save the changes. (c) Google Chrome or Chrome for Android: Click on the tools button which is located in the upper right hand side (the three vertical lines). Select "Configuration" and at the bottom of the page click on the "Show advanced options…." link to open this part. In the "Privacy" section, click on the "Configuration of content…" button and from the "Cookies" section you can configure the reception of cookies. (d) Safari or Safari for iOS: Click on the tools button that is located on the upper right hand side (the cogwheel) and select "Preferences…". Open the "Privacy" tab and check (tick) the option you want from the "Block cookies" section.
9. Accepting cookies
If you continue browsing after being informed about our cookies Policy we understand this to mean that you accept the use of cookies. On accessing this webpage or application for the first time, you will see a window which informs you on the use of the cookies and where you can consult the cookies policy. If you consent to the use of cookies, you can continuing to browse or click on a link, it will be understood that you have consented to our cookie policy and therefore the installation of them on your computer or device. In addition to using our own cookies, we allow third parties to set cookies and access them on your computer. The consent to use cookies for these companies is linked to browsing this website.
10. Privacy policy
Although this does not affect the cookies, for your convenience, you can also consult our privacy policy here.
Read our latest Network Traffic Analysis Blog Posts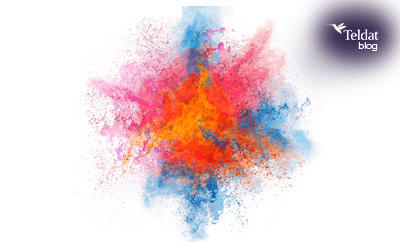 The eternal struggle between the realms of transformation and innovation, operations, and in recent years, cybersecurity is nothing new. While the former continuously seek out new technologies and services to offer novel or enhanced offerings that drive business...