Teldat Group
Communicate with us
1. PURPOSE
This legal notice regulates the use of the website www.teldat.com, owned by TELDAT, S.A. (hereinafter, TELDAT).
Navigation on the TELDAT website attributes the condition of USER of the website and implies the full and unreserved acceptance of all the conditions included in this Legal Notice, which may be subject to modifications without prior notification from TELDAT, in which case TELDAT will proceed to inform and publish the new conditions as early as possible.
Users are therefore advised to carefully read this Legal Notice if they wish to access and make use of the information and services available on this website.
The user undertakes to make correct use of the website in accordance with current legislation, good faith, public order, traffic uses and this Legal Notice, and will be liable to TELDAT or third parties for any damages that may be caused as a consequence of non-compliance with this obligation.
Any unauthorized use is expressly prohibited, and TELDAT may refuse or withdraw access to the website at any time.
2. IDENTIFICATION
TELDAT, in compliance with Law 34/2002, of 11 July, on Information Society and Electronic Commerce services, informs you that:
Its corporate name is: TELDAT, S.A.
Its VAT number is: A28877579
Its registered office is at: Calle de Isaac Newton, 10; Parque Tecnológico de Madrid – 28760 – Tres Cantos – MADRID
It is registered in the Mercantile Registry of Madrid: No. 2, Volume 125, General 116, Section 3 of the Companies Book, Page 132, Sheet No. 61.366-2, Inscription 1
3. CONTACT
We offer the following means of contact:
Teléfono: +34 918 076 565
Email: info(a)www.teldat.com
All notices and contact between users and TELDAT are considered effective, for all purposes, when they are made through any of the means detailed above.
4. CONDITIONS OF ACCESS AND USE
The website and its services are free and freely accessible. However, TELDAT may condition the use of some of the services offered on its website upon completion of the corresponding form.
The user guarantees the authenticity and up-to-date nature of all data communicated to TELDAT and will be solely responsible for any false or inaccurate statements.
The user expressly agrees to make appropriate use of the contents and services of TELDAT and not to use them to, among other things:
Disseminate content that is criminal, violent, pornographic, racist, xenophobic, offensive, glorifying terrorism or, in general, contrary to law or public order.
Introduce computer viruses or perform actions that may alter, spoil, interrupt or generate errors or damages to electronic documents, data or physical and logical systems of TELDAT or third parties; as well as impede other users from accessing the website and its services through the mass consumption of the computing resources through which TELDAT provides its services.
Attempt to access the email accounts of other users or restricted areas of computer systems belonging to TELDAT or third parties and, in such cases, extract information.
Violate intellectual or industrial property rights, or violate the confidentiality of information from TELDAT or third parties.
Impersonate the identity of another user.
Reproduce, copy, distribute, make available or otherwise publicly communicate, transform or modify content, unless possessing authorization from the owner of the corresponding rights or it is legally permitted.
Collect data for advertising purposes and send advertising of any kind and communications for sale or other commercial purposes without any prior request or consent.
All website content, including text, photographs, graphics, images, icons, technology, software, as well as graphic design and source codes, constitute a work whose property belongs to TELDAT, without any rights of exploitation being transferred to the user other than what is strictly necessary for the correct use of the website.
Ultimately, users that access this website may view the content and make, where appropriate, private authorized copies provided that the reproduced elements are not then transferred to third parties, or installed on servers connected to networks, or are subject to any type of exploitation.
Also, all the brands, commercial names or distinctive signs of any kind that appear on the website are the property of TELDAT, and it cannot be construed that the use of or access to the website gives the user any right over them.
The distribution, modification, transfer or public communication of the content and any other act that has not been expressly authorized by the owner of the rights of exploitation is prohibited.
The establishment of a hyperlink does not mean in any case the existence of relations between TELDAT and the owner of the website on which the hyperlink is placed, nor the acceptance and approval by TELDAT of its content or services.
TELDAT is not responsible for the use that each user makes of the materials available on this website nor the actions carried out based on them.
4.1 EXCLUSION FROM GUARANTEES AND LIABILITY
The content of this website are of a general nature and merely aim to provide information. No guarantee of access to all contents, the comprehensiveness, correctness, validity or current accuracy of the contents, or their suitability or utility for specific purposes is given.
TELDAT excludes itself, to the extent permitted by law, from any liability for damages of any kind deriving from:
An inability to gain access to the website or any lack of veracity, exactitude, comprehensiveness and/or current accuracy of the contents, or the existence of errors or defects of any kind in the contents transmitted, disseminated, stored or made available to which access is gained through the website or the services offered.
The presence of viruses or other elements in the contents which might cause disturbances in the computer systems, electronic documents or data of users.
Non-compliance with laws, good faith, public order, traffic uses and this legal notice as a consequence of the incorrect use of the website. In particular, and as an example, TELDAT does not accept liability for the actions of third parties that may infringe intellectual and industrial property rights, business secrets, rights to honor, the intimacy of persons or families, or to their image, or regulations concerning unfair competition and illicit advertising.
Likewise, TELDAT accepts no liability for information found outside this website which is not managed directly by its Webmaster. The exclusive function of the links that appear on this website is to inform the user about the existence of other sources which may expand on the contents offered on this website. TELDAT does not guarantee or accept liability for the operation or accessibility of the linked websites; nor does it suggest, invite or recommend users to visit them, thereby accepting no liability for the results obtained. TELDAT accepts no liability for the creation of hyperlinks by third parties.
4.2. PROCEDURE IN THE EVENT OF CARRYING OUT ILLICIT ACTIVITIES
In the event that any user or third party considers that there are facts or circumstances that reveal the unlawful nature of the use of any content and/or the performance of any activity on the web pages included or accessible through the website, he/she should send a notification to TELDAT duly identifying him/herself and specifying the alleged infractions.
4.3. PUBLICATIONS
The administrative information provided through the website does not replace the legal advertising of laws, regulations, plans, general provisions and acts that have to be formally published in the official journals of the public administrations, which constitute the only instrument that attests to its authenticity and content. The information available on this website should be understood as a guide and does not purport to be legally binding.
5. APPLICABLE LEGISLATION
The present conditions will be governed by current Spanish legislation.
The language used will be Spanish.
Read our latest Blog Posts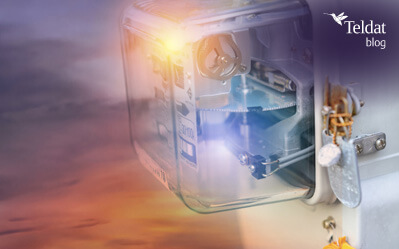 Businesses of all sizes are under steady pressure to reduce their power consumption – not just to mitigate rising energy costs, but also to meet green legislation requirements. Besides, stakeholders like investors, employees and customers...
read more