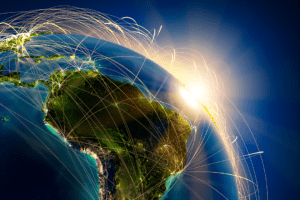 It's no secret to anyone that the concept of SDN/ SD-WAN has been gaining ground over the past four years. This is in direct response to a clear need to erase geographical boundaries and improve visibility, control, availability, performance, scalability and security among others.
Geographically speaking, Latin America is very wide and most of the businesses that support its economy involve networks that must reach remote locations. However, even when governments and telecommunications companies have worked together on developing new agendas to deliver greater connectivity to the people, the result has not always been positive, and the resources not very reliable. Connectivity continues to pose a major challenge for companies that demand a quality WAN network.
SD-WAN in Latin America: MPLS and 4G LTE
Although MPLS networks in Latin America were among the costliest in the world, service providers have lowered their prices considerably with the advent of SD-WAN. This is a concept that releases companies from having a dedicated network while promising greater capabilities even when data is sent along a traditional Internet channel. Also, companies that already had an MPLS network were constantly faced with the dilemma of whether to sacrifice performance for security, or vice versa. Consequently, SD-WAN is being seen as an alternative line where security is permitted (thanks to much larger bandwidths) and availability and performance should not be sacrificed in the process – a huge benefit for those companies where data reliability and integrity is paramount.
Another important aspect in Latin America's general acceptance of SD-WAN is the ability to combine different links to build business networks. Companies can cost-effectively run a mix of broadband Internet services, MPLS networks and even 4G LTE links, choosing links according to the traffic type or priority.
Consequently, we are starting to see more and more hybrid and even complementary environments between these technologies. In financial environments, for example, it has become common practice to layer SD-WAN over the top of MPLS – thereby providing visibility, availability, security, and control without affecting the existing network, and adding the ability to reach a lot more locations quickly and cost-effectively. And the incorporation of 4G LTE links is allowing these entities to extend services to locations that service providers have difficulty reaching with fiber networks, but where there is sufficient wireless network coverage to provide them.
The future of SD-WAN in Latin America
SD-WAN will continue to grow in the coming years. More than a passing trend, it has become the way of seeing corporate networks today. The market recognizes the vital importance of having visibility and control over its internal traffic. It is also aware that the investments needed to achieve these capabilities are no longer as high as they have been in recent years, when companies seeking such capabilities had to invest heavily in specialized infrastructure.
SD-WAN is here to stay, and service providers today are defining clear strategies in this regard so as not to lose market share and reduce their profits. Customers are aware of this, which is why they are increasingly interested in understanding the features that each technology in the market has to offer and which one best meet their needs.
Teldat is well positioned as an important player in this growing market. Whether partnering with the Carrier or working directly with the end customer, it can offer suitable solutions for a wide range of SD-WAN environments.