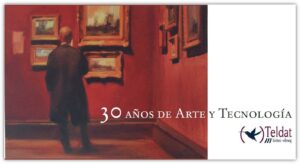 The first commercial internet domain name was registered on the 16th March, 1985: Symbology.com. It belonged to a computer manufacturer created from a division of the Artificial Intelligence Laboratory at MIT that specialized in making LISP machines. To put things into perspective, Microsoft registered its domain name in 1993 and America Online, the largest Internet service provider at the time, did so in 1995, the same year as Amazon.
Teldat, which celebrated its 30th anniversary this year, was founded on the 5th May, 1985, only a few weeks after the first domain name was registered. This is no coincidence, mind you, because the history of Teldat is tied to the Internet and the communications networks. Its purpose was to seek the most efficient way of ensuring network access to all of those who already understood this to be the way forward. That the future was to be found in the enormous opportunities opening up in terms of the sharing of information, knowledge and work. That future that we have achieved 30 years later with a mixture of humility, hard work and perseverance.
These past few days we have celebrated an anniversary that, for us, is very important because our present situation predicts a promising future.   Over the past 30 years, we have become a powerful multinational group present in five continents, designing from our offices in Madrid and Nuremberg, for our customers: major companies, institutions and operators worldwide. We have learnt valuable lessons from all of our customers. And each of them have given us something to be thankful for. Their trust and support have helped us get to where we are today. These have been exciting years, with extremely rapid developments in which we've witnessed the disappearance of many of the companies that were with us from the outset, like the visionary Symbology, the first to register an Internet .com domain name.
Our task now is to make that impending future a reality once more, just as we did in 1985. We have always considered the technological design process to be an art form, so for us this is our art. And if cutting-edge art is expressed in the form of new materials, bold approaches and innovative ways of sharing beauty, for Teldat, cutting-edge technology starts with information sharing, since this is the engine that drives the knowledge-based society in which we live today. This is exactly Teldat's goal: to create, for the knowledge-based society and its members, the most technologically advanced platforms allowing for more efficient communication between companies and their users.