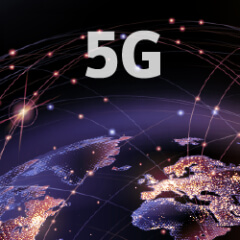 Teldat has launched a web page with its new and advanced 5G solutions for corporate services. Additionally, as 5G cellular networks have so much to offer, for so many markets segments, covering a very wide spectrum of diverse solutions and services, Teldat's 5G web page summarizes those main points which are going to be of interest for our current and potential enterprise clients. Moreover, different technologies within 5G, such as eMBB, Fixed Wireless Access – FWA, Massive IoT and URLLC are summarized.
Currently, Teldat has two main products that will solve important enterprise issues. Firstly, the Teldat M8Smart-5G edge router to be deployed for Fixed Wireless Access within 5G networks, although this edge router offers a complete solution for all types of data services, not only 5G cellular networks. Secondly the Teldat-5Ge, which solves the issue and that many have claimed to be 5G networks' huge disadvantage… not being able to penetrate buildings! Once again as with Teldat's other enablers for 3G or 4G, the Teldat-5Ge, connects with corporate routers easily and simply, eliminating the disadvantage of 5G not penetrating into buildings.
Teldat's Business Line Manager for Routers & Media Gateways, Francisco Navarro, explains "5G really is the largest breakthrough ever that we have experienced to date within cellular networks. Primarily because it's much more than just a huge increase in throughput".
Francisco goes onto explain "A cellular network with ultra-low latency, increased reliability, massive network capacity, and more, opens up diverse and important business opportunities for many market segments".
If you want to read through the new Teldat 5G web page.