Teldat Group
Information Security
1. Introduction
Teldat needs to be able to guarantee the security of information to offer a high-quality service to its customers and, simultaneously, preserve its business processes. Information Security consists of protecting this data against a wide range of threats to ensure business continuity, minimize risks and maximize business opportunities and the return on investments. Information Security is about safeguarding information against a wide range of threats, ensuring business continuity, minimising business risks and maximising return on investment and business opportunities.
2. Scope of application
This policy is aligned with Teldat's global safety guidelines and is applicable to all information (whatever its format, location, means of communication, dissemination, or storage).
3. Goals
Guarantee Teldat's basic Information Security requirements are met (i.e., completeness, confidentiality, and availability).
Provide a framework to manage Teldat's Information Security by setting up a standardized risk management process.
Ensure Teldat's business continuity.
Make sure Information Security requirements are particularly complied with in research, development, and product manufacturing processes, as well as in marketing ones.
Build trust among Teldat customers.
Guarantee Information Security without failing to protect other goods and assets belonging to the Company, always in compliance with the applicable legislation and technical and organizational framework.
Create and maintain an Information Security Management System that includes the necessary policies, standards, procedures, and guidelines to implement all security requirements in the different corporate areas. This way, Information Security can be continuously assessed.
Establish a regulatory framework for the classification, labelling and dissemination of information.
Promote the continuous improvement of the information security management system.
4. Principles
The following basic principles apply to Teldat's Security policy:
Comply with all legal and contractual requirements that apply to business operations. For the purposes of this policy, this specifically applies to matters related to personal data protection, corporate information, and on-going business processes.
Restrict the use made of the information itself (as well as of corporate processing means) to tasks where it's needed for employees to carry out their jobs. No assets can be used for personal benefit. Keep corporate information secret and never disclose it to third parties (unless it is mandatory for business purposes, and always in accordance with the security measures in force).
Draft periodic reports on Information Security. All Teldat employees and external partners are responsible for upkeeping information security. Thus, all of them must have received adequate training and be aware of the role they must perform.
Prepare regular reports on the Information Security situation.
Information security is the responsibility of all members of Teldat, as well as its external collaborators, all of whom must be adequately trained and made aware of the need to carry out their responsibilities satisfactorily.
5. Responsibilities
Teldat's Management undertakes to adopt all necessary measures to implement, maintain and continuously improve the Information Security Management System, and to meet the requirements applicable to information security. To do so, this Security Policy is made public and internally disseminated within the organization, ensuring all interested parties have access to it. In addition, a person responsible for managing Teldat's Information Security will be appointed. To this end, this Security Policy is made public, communicated internally throughout the organisation and made available to all interested parties. Moreover, each manager is responsible for guaranteeing the people working for him/her protect the information in accordance with the rules set by Teldat.
Moreover, each manager is responsible for ensuring that the people working under his or her control protect information in accordance with Teldat's established standards.
Information Security protection is a global corporate goal that must be enforced by all company members. As such, employees and external partners must be aware of the security policy in place and follow its procedures, standards, guidelines, and recommendations for all matters that could have an impact on their job or Teldat. If the security policy, guidelines, or applicable legislation (where applicable) is breached, the disciplinary measures or actions defined by Teldat will be adopted.
Failure to comply with this security policy, or with the applicable guidelines or legislation in each case, will result in the adoption of the corresponding legal or disciplinary measures, as defined by Teldat.
6. Related policies
This Information Security policy is supplemented with several specific guidelines that provide details on the principles that govern particular aspects of information security.
Security Information Certificates
Since the implementation of our Information Security Management System in 2022 in accordance with the ISO/IEC 27001:2017 standard, Teldat has grown and progressed considerably improving its efficiency and orienting all its processes towards a single end result; the satisfaction of all customer needs.
As a result of this effort, Teldat, in August 2022, was awarded the AENOR Information Security certification, in accordance with the UNE-EN-ISO/IEC 27001/2017 standard. 
Read our latest Blog Posts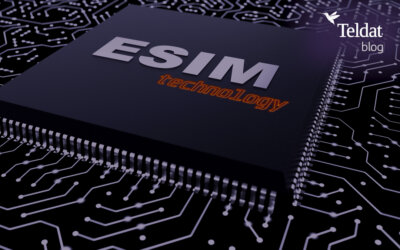 In our increasingly connected world, communications play a pivotal role in our everyday lives. Whether it's staying in touch with friends and family, working remotely, or simply browsing the internet, having reliable connectivity is crucial. Within this context, eSIM...
read more