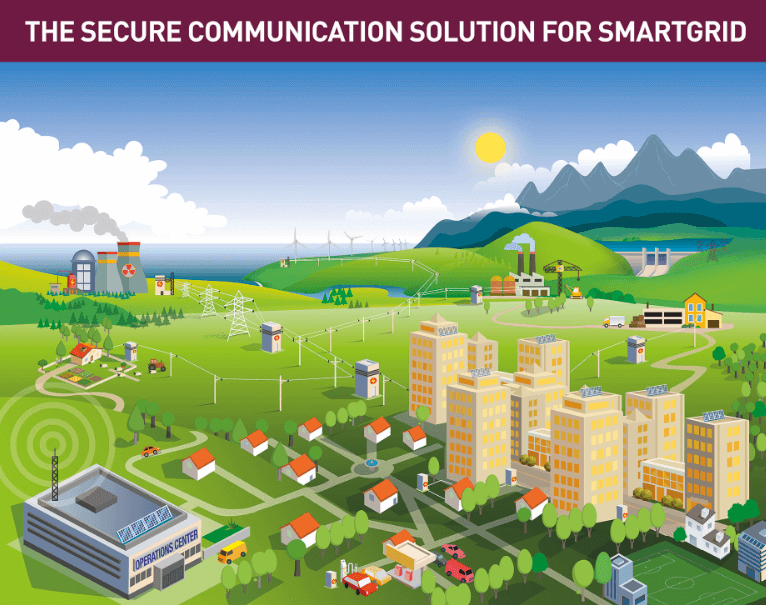 We were present, as a sponsor, at the European Utility Telecom Conference (EUTC) in Dublin. There we had the opportunity to further experience the most commonly used Smart Grid technologies and how these optimized both deployment and maintenance costs, by adapting to certain topologies.
There is a multitude of smart technologies for data transmission communication networks in and around cities.  Examples include cable technology such as PLC (broadband/narrowband), fiber and xDSL, as well as wireless, such as 3G/LTE, 6LoWPAN and SigFox
Cable based technology is efficient in crowded areas, where cabling needs to cover a large number of communication devices.  An example of this, in larger cities, is the deployment of fiber to cover blocks containing thousands of homes.  Depending on the technology selected, the same cable used to transport electricity can be repurposed (PLC), or the user may install xDSL copper pairs or a specific cable (fiber).  How far these are able to reach, also depends on the chosen technology.
Despite having a reach of only a few kilometers, utility companies prefer using PLC (as existing cable can be reused to transport and distribute electricity).  This makes PLC particularly suitable for short reach cable communication: between electricity counters and the transformation/distribution centers, for example, or between neighboring substations.
For substations sharing multiple carrier communication and electricity distribution networks, communication cabling can be reused through xDSL technologies, which can reach distances up to 20-30 kilometers without requiring additional cable.  This leaves fiber for long-distance communications between highly used centers, or for new electricity distribution networks (where fiber is installed at the same time as electric wiring and, consequently, at a marginal cost).
The quality of cabling to domestic environments doesn't always allow for reliable communications over PLC (due to possible interferences).  Under these circumstances, radiofrequency, such as 6LoWPAN, stands out as a good alternative, chiefly because cabling to the end user is avoided.  Technologies such as SigFox are particularly interesting due to their low consumption, and are quickly gaining ground in water and gas deployments, which logically can't be powered through electricity for security reasons.  However, given that a network of base stations must be implemented for this technology, there must be enough devices in the area to justify the cost of said deployment.
3G, LTE
The most wide spread technology is 3G/LTE wireless, already in place, this means the telecommunication carriers can reuse their coverage infrastructures in rural and low density areas, thus minimizing their investment to only the essentials for communication.  By using third party networks, this also implies the use of management and encryption technologies, guaranteeing both data independence and integrity.
Teldat specializes in the use of cellular technologies, EDGE / 3G / LTE, in Smart Grid deployments, and is the leading supplier of high-end communication routers equipped with both cipher and mass management tools: all designed for deployments for remote and underserved areas.