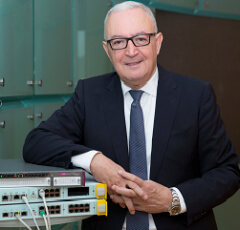 Antonio Garcia Marcos, Teldat's President, sat down with Cinco Dias to discuss how the company is providing hardware and software solutions aimed at the corporate network virtualization of German SMEs.
The interview focuses on how Teldat, through bintec elmeg (its German subsidiary), has made the most of its wide network of distributors and resellers to offer its SD-WAN -software-defined network- solutions to German SMEs. Many of them had already added cloud-operating features to their Teldat routers, in order to embrace the new SD-WAN paradigm: a technology for which Teldat has, according to Gartner, become a leading provider within this market.
Antonio Garcia Marcos believes succeeding in Germany will be crucial to tackle the global SME market with confidence. "We are hoping for a positive reception, to enhance strengths and address any weaknesses".
The text published by Cinco Dias also highlights Teldat's international presence, the company's turnover, and the strong investments it makes in R&D&I. Its customer base includes some of the leading companies in various sectors, and Teldat has been awarded some major international contracts worth referencing.