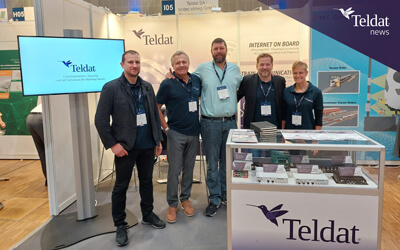 Teldat was exhibiting at Railway Forum in Berlin on 6th & 7th September. An event that perhaps stands out as Europe's most important railway industry management conference.
Teldat was able to explain to all those who visited our stand, how our traditional value added solutions for the railway industry, have progressed.

Developments within our enhanced passenger experience have enabled the possibility of deploying more information systems, and additionally the use of Wi-Fi 6 has perfected onboard connectivity, even in crowded carriages. Also Teldat demonstrated how our train to ground communications have intensified with progress made in the areas of LTE, 5G and more.
Teldat has improved operational efficiency, so that IT rolling stock infrastructure can be remotely configured, managed and controlled. Among other issues, the deployment of network traffic analysis and Artificial Intelligence, has also expanded.
This in turn, brings us to the important points of threat protection and cybersecurity, which Teldat offers the railway industry. Covering both operators as well as passengers.
After the Railway Forum, Teldat published on our Linkedin profile, a Newsletter with information related to the event and what we presented at Berlin. On this Newsletter, Francisco Guerrero, Teldat's VP Global Sales and Chief Business Officer for IoT, commented that, "Once again, I can confidently affirm that this event was a resounding success. We have developed numerous cutting-edge products and solutions, which we were eager to share with our global clients, as well as with the prospective clients we encountered at the Railway Forum".
Additionally, André Koch, Global Sales Director for IoT at Teldat says, "the commercial advantages we have gained at Railway Forum are many and varied. What definitely stands out, are increases in brand visibility, market awareness and customer perception of Teldat's railway solutions accompanied by quality and number of sales meetings obtained".
To see more information, including a Flickr album, please visit our Linkedin post. Click here…