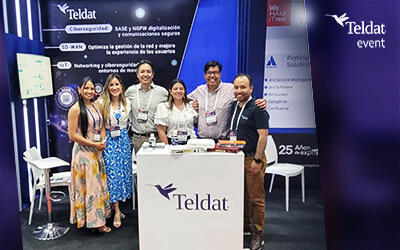 Last week between the 6th and 8th of September, Teldat had a stand at ANDICOM in Cartagena de Indias, Colombia. One of the most prestigious technology events in Latin America.
At ANDICOM, Teldat presented our most advanced solutions.
In the Smart Grid environment, Teldat exhibited our latest versions of REGESTA equipment which have allowed our company to become leaders in the European market. In addition, combining these REGESTA devices which work on communication networks such as PLC, 5G or LTE, with cybersecurity for OT (Operational Technology) environments, among other concepts.
Information was provided on the cybersecurity solutions that Teldat offers for other scenarios. Both for companies and organizations. Teldat's SD-WAN was also presented. Our experts at ANDICOM were able to explain different models and use cases within all these solutions.
Sergio Leal, LatAm Regional Director, summarized the event very clearly, "For Teldat the ANDICOM 2023 event has been key in being able to expose all the new aspects that Teldat brings to the market related to the new digitalization".
Laura Rojas, Regional Sales Manager in Colombia commented, "The results obtained at ANDICOM can be classified as very good for Teldat". She also highlighted that, "It was a pleasure to work at this event with our partner Kubos and the synergy established between both companies."
For more information and to be able to access the images on our Flickr album, please click here…