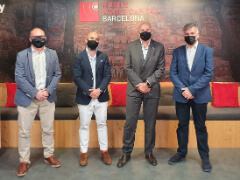 Teldat and Mobile World Capital (MWCapital) establish an area of cooperation and collaboration focused on 5G technology and its different contexts in which they are both specialists: Teldat, in the manufacture of cellular equipment and solutions, and MWCapital in the development of the mobile connectivity.
MWCapital has a clear mission to "improve people's quality of life through the digital transformation of the economy and society". Their four basic pillars are: innovation, technology, talent and society. Pillars that converge perfectly with the values and corporate philosophy that Teldat has always followed since it was established more than 35 years ago.
Testimonials such as those of Mario Aguilar and Francisco Martín, strengthen and add value to this collaboration:
Mario Aguilar, Chief Sales Officer de Teldat: "MWCapital is an initiative that drives digital development, especially in the 5G environment. In both entities, we will work to embrace this unique opportunity that will allow us to undertake new 5G projects.
Francisco Martin, Teldat's Territorial Director for the Mediterranean area: "I have high hopes for the collaboration framework we are signing today. Through the use of 5G technology, we will jointly promote projects that will allow us to solve current and future challenges within companies and public administrations.
Finally, among other important issues, the agreement outlines several areas of cooperation and collaboration to strengthen 5G technology. One of these aspects is to boost 5G awareness in the market, via cross-marketing between both entities. With the objective of communicating to the market the opportunities that the mentioned 5G technology offers. If you want to read more about Teldat's challenge within the 5G.