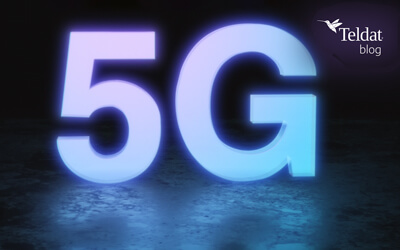 After years of ongoing discussions about 5G, and even some early talk about 6G in certain circles, this year has introduced a new buzzword: 5G Plus. As we enter the post-summer season and witness more carriers announcing their offerings on this cutting-edge network, it becomes imperative to shed light on this exciting development.
What was 5G?
The concept of 5G has become deeply ingrained in our society as the ideal solution for both mobile and non-mobile radio communications, a topic that has been extensively discussed for quite some time now.
5G is commonly understood by most people as providing high-speed internet on their mobile devices (Enhanced Mobile Broadband, or eMBB). However, 5G is much more than just fast connectivity; it represents a comprehensive solution to the limitations experienced with 4G technology, such as very high latency, network congestion when multiple devices are connected, and unreliable connections. In essence, 5G represents a new era of high-performance networks, specifically designed to connect virtually everything and everyone, including machines, objects, and devices.
To implement this new technology, communications carriers need to deploy a new access network (RAN) and establish a new core network (CN). Please see the diagram below:

How has 5G been deployed?
The rollout of this new technology required significant investment from communications carriers, leading to its initial release in the form of 5G NSA (5G Non-Standalone).
5G NSA utilizes the existing 4G network infrastructure for radio and signaling, enabling the provision of an initial 5G network with reasonable coverage and a substantial increase in available bandwidth.
Advantages and disadvantages of the Non-Standalone (NSA) network:
| | |
| --- | --- |
| Advantages | Disadvantages |
| Cost efficiency | No significant improvement in lowering latency |
| Easy deployment by leveraging the existing Radio Access Network (RAN) | Higher energy consumption |
| Quick availability in the market and enhanced bandwidth | Maximum bandwidth potential of 5G is not fully realized |
Over time, carriers have been upgrading their networks to support the 5G Standalone (SA) mode, which brings a completely new RAN and CN infrastructure. Unlike previous modes that relied on existing 4G/LTE infrastructure, the SA mode enables carriers to fully utilize the capabilities of 5G.
Advantages and disadvantages of the Standalone (SA) network:
| | |
| --- | --- |
| Advantages | Disadvantages |
| A fast and scalable infrastructure | Implementation costs |
| Improved latency and lower power consumption | Limited experience with this relatively new technology |
| New services such as Voice over New Radio (VoNR), Edge Computing, and Network Slicing | Deployment in mmWave frequencies can be complex due to their very high frequencies and speeds |
So, what exactly is 5G Plus?
5G Plus or Total 5G is a marketing term used in Europe to describe the 5G SA network. It's not a completely new concept, but rather a way to generate interest in the second phase of 5G deployment.
However, based on the advantages of the 5G SA network listed in the above table, this development may go unnoticed for many mobile phone users, as 5G Plus is primarily targeted towards businesses and industries. It's only with the future introduction of mmWave technology that it may become more appealing to them.
In Spain, both Movistar and Orange have already launched their 5G Plus networks commercially. Soon, these networks will be available for free in most provincial capitals.
There are still some details to consider regarding approved mobile phone handsets. One key factor for them is the ability to save battery power, potentially up to 20%. However, not all the currently available mobile phones marketed as 5G will be able to connect to 5G Standalone (SA). Even among those that can, they may not be able to fully utilize all the features of the SA network. Nonetheless, these phones can still be configured to remain on the 5G Non-Standalone (NSA) network, as is currently the case.
One significant difference between the 5G SA and NSA/4G networks is the improved security when exchanging certain identification data between the terminals and the network. Previously, this data was sometimes transmitted in plaintext within certain packets, making it vulnerable to identity theft attacks.
However, with 5G SA, this data will always be encrypted using a public key stored on the SIM card. This feature works seamlessly on devices equipped with eSIM, but it is not supported on many traditional SIM cards. As a result, carriers are already upgrading to new 5G SIM cards to ensure compatibility.
5G Plus Use Cases
As mentioned earlier, 5G Plus is more relevant to industry and IoT scenarios than to mobile phone users.
5G Plus will bring us new use cases such as:
Voice over New Radio (VoNR or Vo5G): This feature allows making voice calls independently of the 4G network, which will enable:

Faster call setup
Lower latency in conversations
Better sound quality
Network Slicing: Specific virtualized networks can be created over the physical 5G network and tailored to cater to special services and individual customers. This will enable:

Optimizing resources and automating their distribution
Transitioning to software-defined customer networks (SDN)
Network function virtualization (NFVs)
Real-time interactivity: ultra-low latency will enable near-instant response from remote systems, giving the feeling of working locally. Additionally, it increases the deployment of MEC-Edge services at the client's network edge, ensuring optimal user experience in applications and services that demand lightning-fast response times and unparalleled performance.
Teldat and the new 5G Plus
At Teldat, we are committed to evolving our product line to incorporate the latest advancements in the market, allowing us to seamlessly integrate with the exciting functional innovations offered by carriers to their clients.
As proud pioneers, we are delighted to announce that all our 5G products in the office portfolio inherently support the 5G Plus network currently being rolled out by leading carriers across Europe.