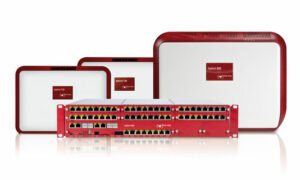 The increasing interconnectedness between the fields of information technology and telecommunications is not new. We all know that these two worlds have grown more and more together and still do (keyword: convergence). On the one hand business communication requires professional telephony and professional routing, but on the other hand, no company, especially in the SME segment, wants to buy only a PBX in order to fulfill their telecommunication needs and no company acquires a router, and let it be as professional as possible, only for routing. The SME segment wants one device for both needs. They are driven by costs but at the same time, they want all professional benefits like larger companies as well.
Besides costs and efforts, deep integration into their technical environment and into their workflows is a must. Standardized interfaces in applications and devices, sometimes even certified by third-party suppliers, are the fundamental requirements for a seamless integration. Further challenges, such as usability, flexibility, security of investment, mobility and as a matter of course security have to be guaranteed at any time. Particularly mobility has stressed the requirement of security lately. Over the last few years the number of private smart phones and tablet PCs has continuously increased and many of these users also take advantage of their devices for business purposes (key word: BYOD or bring your own device). The convenience of eliminating the difference between "in the office" and "on the road" changes daily business while availability and communication use remain unaffected. This balancing act between mobility and security is certainly one of the biggest challenges.
Besides various challenges mentioned above which we have to overcome in the SME segment, we come to the conclusion that it is essential to have some kind of "PBX with business routing" or a sort of "router with professional telephony" for SMEs. It is necessary to find a solution that can cope with telecommunications as well as with information technology in order to fulfill all business needs for SMEs. From the perspective of the customer the crucial question that he asks himself is: What kind of device would be the professional solution? And who is able to really offer both? An IT company selling routers with telephony? Or a telecommunications company offering PBXs with professional routing? Isn't there a real ICT company which offers both? As a matter of fact, there is. Teldat. Possibly the largest European manufacturer of ICT devices for the business market, offers true convergence. Its Bintec brand stands for professional routing and its Elmeg brand for professional telecommunications solutions. The Elmeg hybird 120 and 130 is the true converged solution to meet all communication demands of SMEs and even freelancers and home offices.