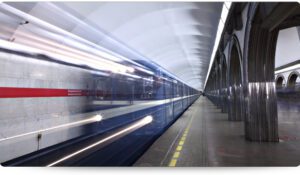 On June 30th 1948, The New York Times devoted a 4-inch article on page 46 to a new invention: "A device called a transistor, which has several applications in radio where a vacuum tube ordinarily is employed". [1] The article unveiled what Bell Labs (the R&D Department of the American telephone operator AT&T) had been developing and patenting since 1947. This modest announcement of what was to become the central artefact of electronics, was followed by a relatively non-aggressive plan of action for introducing the product on the market. AT&T waived the royalties for transistorized hearing aids in honor of Alexander Graham Bell, a lifelong advocate for the hearing impaired.  There were not many more applications for the transistor technology in sight.
Only sixty-seven years later, merely the blink of an eye in human history, we all carry hundreds of thousands of transistors in our phones and other devices, and interact with millions of transistors in our daily lives. Almost all the electronic products we know today have one or more integrated circuits, consisting of transistors welded to a printed circuit board.
The amount of time that has elapsed is shorter if you take into account the fact that the integrated circuit (IC), the multi-transistor device that has enabled the widespread use of electronics, was not introduced until the early 1960's.
The application of ICs in commercial applications is even more recent, following the usual introduction by the innovation agents.  In this case, the military and space industries assumed the high development and initial manufacturing costs. We are amazed now to see just how basic the processor on board the Apollo 11 mission in 1969 really was.
Printed circuit boards (PCB) with soldered ICs are everywhere today; in our pockets, in our cars. We need millions of these subsystems assembled, tested and delivered to private and professional customers.
Companies in the electronics industry started as IDMs (Integrated Device Manufacturers) in the industrial, consumer, communications and computing sectors. The large conglomerates of the 1970s and 80s arrived, linking design and manufacturing, often in the same physical location. Think about GE, HP and IBM in the U.S., or Philips and Siemens in Europe, often with activities in more than one field. Those two decades also saw the rise of the big Japanese corporations such as NEC, Toshiba and Sony.
However, the world changed dramatically in the 1990s, both as a whole and with regard to what we are concerned with, namely, electronics manufacturing. The computer industry evolved towards the PC with much bigger volumes but lower profit margins. Communications moved away from the days of regulated monopolies towards growing convergence and digitalization.  appeared, in the end without clear boundaries for the end user. And consumer electronics expanded to include games, home appliances and new digital products. What's more, a new player, the automobile, showed up.   All increasingly in need of reliable electronic subsystems at a competitive price.
Western companies initiated the change. Perhaps because the European and American industry drew inspiration from the work of Taylor and Fayol. Their work can be summed up in the following sentence: "There is an optimal way to do things and engineers are there to discover and implement it".
So, keeping the design, manufacturing and marketing functions together may not be the best way forward. In general, the manufacturing activity, under pressure of productivity, was routinely separated from other activities.  To mention a well-known example, the leading computer manufacturer, IBM, shifted to other activities to maintain its leadership. Following Louis Gerstner's appointment as CEO in 1993, almost all the factories were sold. But European companies like Ericsson soon followed suit. And while there was no specific announcement, the process was implemented progressively in major companies. Eventually even the large Japanese firms, known to follow the Taylor paradigm to a lesser degree, ended up selling or closing many plants.
The general public is often unaware that the manufacturing plants formerly belonging to big names in the electronics industry became part of large, sometimes global, conglomerates. In certain cases they continue to operate as local businesses. Generally though they work for more than one OEM (Original Equipment Manufacturer) and they do not always include their former owner. Manufacturing companies are commonly known as EMS (Electronic Manufacturing Suppliers) or CM (Contract Manufacturer).
The big names in the global electronics contract manufacturing industry like Flextronics, Sanmina, Celestica or Jabil are little known to the general public. Foxconn (Hon Hai Precision Industries), the world number one that made the news following disputes with its workers, may be the exception. The company's headquarters are in Taiwan but it has factories all around the world with the majority in mainland China. Foxconn is known to manufacture consumer goods, such as the iPhone, iPad, Xbox and GoPro. The fact that many Apple products state "made in China, designed in California", is no secret either.
To give an idea, the production of the top 50 CMs covers most of the world's manufacturing.
Here is a list of the most important CMs in 2014 [2]
1- Foxconn                         Taiwan
2- Pegatron                       Taiwan
3- Flextronics                    Singapore
4- Jabil                                 USA
5- New Kimpo                  Taiwan
6- Sanmina                         USA
7- Celestica                        Canada
8- Benchmark                   USA
9- Shenzen Kaifa             PRoC
10 USIS                                PRoC
There is another type of manufacturer with product design capabilities, usually for a specific field such as PCs, tablets, communications or consumer devices.  In certain cases, some or all of the design is outsourced to these specialists. They are known as ODM (Original Design Manufacturer) or JDM (Joint Design Manufacturer).  Many PC models sold under well-known brand names are actually manufactured and sometimes designed by Compal, Quanta or Qisda. The same can be said of many other products.
Outsourcing manufacturing and, in certain cases, design, especially hardware, can reduce the time to market of new products, make them more competitive and, to a certain extent, enable smaller companies to gain access  to larger production facilities.
At Teldat we are always seeking to increase production efficiency with the aim of providing our customers with competitive products. For some time now we have been using a combination of local CMs with leading global manufacturers, while always maintaining complete control over the design, key parts, and manufacturing processes to ensure that our products continue to meet the highest of standards.
[1]  D.Manner, T.Makimoto,"Living with the Chip" p.21, Chapman & Hall, UK 1995, ISBN 0412616904
[2]  source MMI, Manufacturing Market Insider, 2015