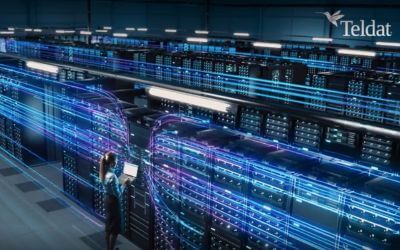 Large and medium-sized companies have been implementing SD-WAN solutions for some years now, and recent studies confirm that the SD-WAN market is still booming. According to a report by the IDC, the market will grow by about 19% annually until 2025.
There are several reasons why companies might choose to implement an SD-WAN solution, with the following being the most relevant:
Optimize network performance over traditional WAN solutions.
Facilitate and automate network management tasks and new deployments.
Reduce connectivity costs by enabling cheaper Internet connections.
Increased flexibility and scalability, by easily adapting to future changes and needs.
Improve the user experience by making application-based routing decisions.
Once a company has decided on an SD-WAN solution, the next step is for IT managers to decide on the SD-WAN solution model to implement. On the one hand, there are the cloud-based service or SaaS (Software as a Service) solutions. On the other hand, the company can implement the solution in its own infrastructure by hosting it on its own servers (On-Premise). Both solutions seek to improve efficiency and lower costs, but a few key differences should be noted to assist in choosing the most appropriate solution for each company.
Regardless of whether a cloud-based or on-premise system is chosen for the location of the database and SD-WAN controller, the management and administration of the company's SD-WAN network can be undertaken in-house or delegated to a managed service provider, like a turnkey service.
 SD-WAN Models
The choice between a cloud-based or customer-reliant SD-Wan model depends on several factors, such as budget, existing infrastructure, or specific business needs. We'll now take a look at some factors to keep in mind when deciding between the two models.
Cloud-based SD-WAN (SaaS)
This solution runs entirely in the cloud, i.e., on remote servers managed by a SaaS provider – which means that no local infrastructure is required for its operation. The infrastructure belongs to the cloud service provider, so no investment in equipment or technical service costs are required. The customer only pays for the cloud hosting service in a licensing model during the time the service is rendered. This cost will vary, mainly depending on the number of connected devices and the contracted service period.
The company's branch devices connect via the Internet to the SD-WAN controller located in the public cloud, where the management and configuration tasks for said devices are carried out.
The main advantages of a cloud-based SD-WAN solution include:
Highly scalable and flexible, by being designed to meet the company's changing needs as it grows. This is particularly important for companies with high growth potential both in terms of the number of branch offices/remote users and in terms of bandwidth demand.
Easy implementation and administration, as most of the configuration and management tasks are performed from the cloud, which in turn means less need for internal IT teams to be involved. The cloud model also makes it easier to update software and add new features.
High resilience to interruptions. Running in the cloud means the network is less affected by local infrastructure issues, such as power loss or hardware failures.
Cost optimization by reducing investments and expenses in local resources, such as the need to purchase additional hardware, software licenses or the reduction of IT resources for administration and maintenance.
Reliability by using cloud services like Firewalls to prevent intrusions and attacks. Leading public cloud providers offer robust security tools to ensure networks are continually up and running and to safeguard data.
Host-based SD-WAN (On-Premise)
This solution, also known as SD-WAN Virtual Appliance, is run in servers housed in the company's own infrastructure. As a result, the acquisition of hardware, and the maintenance and scalability of the SD-WAN solution, is the responsibility of the company.
The SD-WAN controller and the system's database are installed over one or more local servers. Therefore, machine requirements (CPU, RAM, HD) related to managed devices, redundancy levels and fault tolerance must be taken into account. The number of software licenses needed to implement the solution (database, hypervisor, etc.) are also worth noting.
Key advantages of an SD-WAN On-Premise solution:
Greater control over SD-WAN elements when run over the company network.
In some cases, it facilitates integration with other company systems and applications (simplifying network management).
Communication between the devices and the SD-WAN controller is done through the network itself (which may reduce latency and network performance).
Customization of network security to cover specific needs.
Companies with specific regulatory or legal requirements that need to locally house all of their systems and data.
In brief, an on-premise solution can be a good option if any the following options are required:
Greater customization and control over the network.
Specific regulatory requirements
Higher data privacy.
However, the on-primise solution has its disadvantages:
Far less scalable and flexible than a SaaS solution.
Increases the workload for IT staff, since the company must install, maintain, secure and update the solution.
SaaS solution is more efficient, since it minimizes initial investments and maintenance costs by running in the cloud.
Which SD-WAN solution?: Cloud-based (SaaS) or Host-based (On-premise)?
Most companies that have implemented SD-WAN solutions have opted for a SaaS model due to the aforementioned advantages. Nonetheless, Teldat offers its customers the right to choose between both solutions, delivering a product with the same SD-WAN functionalities in both models.
Teldat's SD-WAN solution commands the confidence of operators and large national and international clients that operate in different sectors (banking, public administration, retail chains, transport, etc.). Teldat designs and develops its own SD-WAN solution and has installed a wide range of SD-WAN compatible devices across the globe.