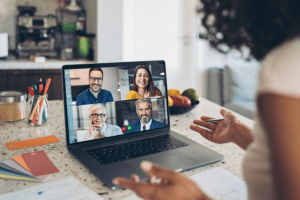 With the current health alert situation that we are experiencing and consequent confinement that is taking place, it is more important than ever for employees to be able to easily connect to their company's systems.
And hence, as connection priorities change, the entire internal network needs to be prepared to meet the new requirements. Due to Covid-19, these changes must be done remotely, without having to be physically present, and this is where SDN-controlled network solutions can offer the most benefits.
The advantages in SDN network management for resellers and their customers
SDN networks let you centralize managing the corporate network regardless of the operator's location or network connection, since it is manageable through the public cloud accessible from the Internet, and therefore from anywhere.
Companies need to be able to have flexible connectivity, or at least be able to adapt the physical connectivity already available to specific business needs. For example, in the Covid-19 crisis, teleworking or collaboration applications like Teams or Skype should be prioritized over other types of applications.
To achieve all this, the technological ally of these companies – typically their reseller or trusted systems integrator –, must be a single point of contact for them through which they can manage all kinds of incidents and changes, from WAN connectivity, applications, voice and connection security. And everything must be done in a timely manner. Companies increasingly want incidents resolved faster, which requires adopting a proactive rather than reactive attitude. Thanks to the monitoring systems of SDN-managed networks, this may be done without having to devote substantial human resources to this monitoring task.
The control and management provided by these SDN tools help those trusted resellers increase their productivity by having more friendly interfaces, increase sales by eliminating the geographic factor in managing solutions, be more transparent with their customers, by being able to give them more information in more detail and faster, and, above all, provide better support, by having everything under control.
Simplicity and adaptability
In addition, the simplicity that characterizes the new SDN networks means that their operators (the trusted resellers for the SME companies) can perform more complex tasks or access branches of knowledge that they wouldn't under other circumstances, since in other scenarios this would require expensive expertise in terms of training and time.
How CNM SD-WAN Solution gives added value to resellers and their customers
Therefore, SDN networks are a new asset for resellers. They give them greater power in the value chain by being able to provide the latest technological capabilities with the closeness that regional/local business brings and very different from that of large communications operators.
Businesses will benefit from a much more powerful system based on optimizing network and application performance, allowing them new opportunities such as less need for face-to-face meetings.
Additionally, resellers can offer a much more comprehensive range of services by combining SDN with their traditional portfolio and providing the human factor and closeness that is so important, especially in the face of uncertainty. And all this in a service mode, so that not only customers, but also resellers will be able to calculate their expenses and adjust their margins in order to be as competitive as possible.
With the launch of CNM SD-WAN in Teldat, we have developed an SDN-based solution that offers all the advantages discussed here in this blog post.
Teldat's SDN solution is geared towards SMEs and is the perfect tool for resellers that, in the face of changing conditions, need to offer dynamism and flexibility to their customer networks without the need to invest heavily in learning and operating resources. It makes doing difficult things easy!