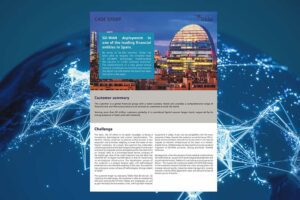 One of the consequences of the
new digital economy
is the increase in the complexity of business network infrastructures during the last decade, both for large companies and
SMEs
. In response to this new situation, companies have been adopting
software-defined networks (SDN)
as the hegemonic model of network architecture. This phenomenon, together with the rise of
cloud computing
has resulted in what is known as
SDN advanced networking.
What are the benefits of this technology for SMEs? What do cloud-managed SDN networks mean for resellers and system integrators working with the end customer?
According to recent estimates, the global SDN market size is expected to grow from $13.7 billion in 2020 to $32.7 billion by 2025, representing an annual growth rate of 19%. The global scenario marked by the COVID-19 pandemic has accelerated a process intrinsic to digital transformation: teleworking, connecting employees across a VPN to their company networks. This is providing, for many businesses, an incentive for the IT reseller and IT system integrator sector.
The need for millions of people to work from home, set up secure VPN connections, etc., is forcing a need to migrate business systems from traditional networks to SDN/SD-WAN networks.
Is SDN cloud networking the answer to the new needs of SMEs?
For small and medium-sized companies to be competitive in today's digital transformation era they need: a scalable technological infrastructure that allows them to take full advantage of opportunities and expand without multiplying costs more than necessary, an ability to quickly deploy applications and updates to avoid production stoppages  and, lastly, rapid responses to network incidents, service problems, cyberattacks, etc.
However, to achieve this, SMEs must have an architecture and cloud network services that are tailored to the characteristics and needs of the business. Resellers and system integrators are a key link in adapting operator solutions to the end customer.
Benefits of cloud network solutions for SDN/SD-WAN: Why is it interesting for resellers?
SMEs are not the only ones to gain from SDN networks. System integrators or resellers gain various benefits over installing and managing traditional company networks.
1. Remote management of the cloud network solution
A cloud network solution allows you to manage, start up the remote network and configure all compatible hardware and devices (routers, access points, switches, etc.) from any location.
These types of cloud networking solutions can also help automate tasks and preconfigure components, thereby reducing the time required for staff to go on-site during network deployment.
2. Increased productivity
SDN cloud networking allows quick network configuration – up to 10 times faster.
This considerably reduces times and allows reaching more customers.
3. Scalability and expandability
An advantage of the cloud lies in the ease of expanding or scaling solutions to adapt to other network architectures, to move from one network topology to another (LAN, wireless LAN, WAN, SD-WAN, etc.), or develop new business models that enable IT resellers and IT system integrators to offer SMEs a rapid and cost-effective expansion of services.
4. More efficient support
Centralized network management and the ability to offer remote assistance enables early error detection. This reduces response time by IT resellers and system integrators and reduces the need to send technical staff to customer facilities.
The cost savings are significant.
5. Simpler and more effective monitoring
Managing everything from one platform allows easy monitoring of application performance and other aspects of the network. This is ideal for IT resellers and system integrators who can get information about their clients' networks immediately, in real time.
6. Greater security
Although the security of cloud services has been much debated, the truth is that centralized network management makes cloud SDN networks very secure.
Firewalls, VPN tunnels and other functionalities not only guarantee a quick response in the event of an attack, but also protect the privacy of data travelling over the network.
What can you expect from an SDN cloud networking solution?
The advantages mentioned thus far depend on the type of solution and cloud network service employed by the IT reseller or system integrator.
In order to obtain the maximum benefit from SDN, system integrators and resellers should seek a solution meeting the following requirements:
A simple, intuitive cloud portal that makes network management as easy as possible.
Multiple client management within the same portal.
Fully compatible devices, making them easy to integrate in systems while saving on hardware for the end customer.
Teldat's CNM SD-WAN provides an SDN advanced networking solution that meets all these criteria, delivering cutting-edge technology for resellers and system integrators seeking full satisfaction of their SME customers' needs.
---
Sources:
https://www.marketsandmarkets.com/Market-Reports/software-defined-networking-sdn-market-655.html