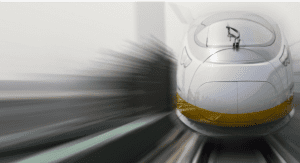 Train communication systems are key to enhancing passenger experience and operator competitiveness, so it makes sense to use the best technologies available – and within the carriages, that includes access points that can deliver Wi-Fi 6 for passengers.
Below, we look at the standard's technical features, and then at how these translate into better transaction, information, and entertainment experiences on passengers' devices.
"Wi-Fi 6 technology allows operators to improve their passengers' experience and sense of wellbeing with better connectivity" on Twitter
Wi-Fi 6 technical features
Securing Wi-Fi connections is important for securing personal data, so the Wi-Fi Alliance regularly introduces stronger protections and new security practices to manage emerging threats. These are represented in Wi-Fi 6 by WPA3, which is a mandatory certification for Wi-Fi CERTIFIED devices. WPA3 adds new features to simplify Wi-Fi security, enable more robust authentication, deliver increased cryptographic strength for highly sensitive data, and maintain resiliency of mission critical networks.
Wi-Fi 6 technology, as set out in the 802.11ax High Efficiency (HE) standard, has been designed to work in high user density environments such as crowded rail carriages, supporting many Wi-Fi devices without mutual interference. Latency time has been reduced, and download speeds increased, without increasing bandwidth over Wi-Fi 5.
The new standard also introduces Multiple User Multiple Input Multiple Output, or MU-MIMO. This eliminates congestion problems associated with the earlier Single User (SU-MIMO) protocol, where more users mean longer waiting periods to send or download data. Parallel data flows can be set up depending on the number of antennas on the access point – 2×2, 4×4, 2x2x2, or 8×8.
Wi-Fi standards prior to 802.11ax use Orthogonal Frequency-Division Multiplexing (OFDM). This is inefficient since stations make use of all the bandwidth available to send or download data in due time. Orthogonal Frequency-Division Multiple Access or OFDMA divides the channel into different fragments known as resource units (RU). Each fragment or RU can be used by a client, depending on the need to parallelize data transmission and downloading within the channel's bandwidth.
This fragmentation prevents stations that send small data packets as text messages from using the medium excessively or inefficiently, so other users making videocalls or downloading multimedia files can utilize the channel. This way, the channel can be fully used with high data throughput levels.
The joint use of OFDMA and MU-MIMO allows multiuser access and provides service in high user density environments. However, high density Wi-Fi network deployments can be adversely affected by overlapping of access points (Overlapping Basic Service Sets, or OBSS). This affects network performance by increasing latency periods due to the waiting time to transmit. Mitigation is possible with a technique called BSS Coloring Spatial Re-use, which calculates a signal power reduction sufficient to avoid interference between access points; simultaneous transmission becomes feasible.
Other Wi-Fi 6 improvements include 1024-QAM, which uses increased modulation for higher data rates, and Target Wake Time (TWT) which allows devices to choose when to become silent, saving energy during data transfers with the access point.
Benefits for passengers
Operators can provide these benefits by deploying Wi-Fi 6 enabled access points which connect into their rolling stock's WAN infrastructure, while being environmentally robust and compliant with all rail certifications. This deployment will allow them to offer significant improvements to their passengers' experience in terms of mobile internet access, safety, and infotainment – all delivered from a single integrated platform.
Passengers on longer journeys wishing to use their time productively can work on their mobile devices, reading and responding to emails, and surfing the Internet as needed. Even if the carriage becomes crowded, their access times and download speeds will not be compromised. They will also be able to watch live news and movies without annoying buffering delays, improving their satisfaction while giving operators better opportunities for monetization through advertising.
Passenger information systems (PIS) improve customer wellbeing by reducing anxiety. This can include not just static train timetable listings, but also real time information to meet increasing customer expectations. This can be continually and automatically updated based on intelligent vehicle location systems and traffic events; expected arrival times can be confirmed, for example. Delays and passenger numbers in other trains can also be shown, making onward journey planning easier.  Overall, passengers will enjoy more assured control of their journey through a seamless PIS environment working across mobile devices, platform and in-carriage displays, and public address announcements.
Wi-Fi enabled services can also include smartphone mobile ticketing apps; these are highly attractive to passengers because of their speed and convenience compared with queuing or booking in advance.
Security cameras, if installed according to local laws regarding privacy, allow passengers to feel safer by acting as a deterrent as well as providing evidence of any incidents. A good Wi-Fi connection ensures that they deliver clear images of adequate resolution and speed in images per second per camera (IPSPC). These parameters are typically mandated by legislation such as the 'Surveillance Camera Code of Practice in the UK.
Overall, Wi-Fi 6 technology allows operators to improve their passengers' experience and sense of wellbeing with better connectivity – allowing them to work online, enjoy entertainment, be informed in real time, and feel safe. All of these services can be delivered with uncompromised security and performance, even in crowded carriages.
Teldat's APR2044ax is our ruggedized Wi-Fi 6 access point for railway environments, which can work with the rest of our rolling stock hardware and software SD-WAN solution to offer a high level passenger experience.
————————————————————————————————————————————————————–
https://assets.publishing.service.gov.uk/government/uploads/system/uploads/attachment_data/file/204775/Surveillance_Camera_Code_of_Practice_WEB.pdf