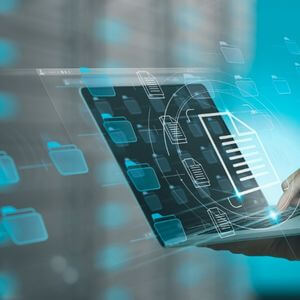 The emergence of compact wireless routers promises to optimize the deployment of distributed locations for different sorts of businesses.
As a result of developments in wireless technology, two widely used concepts appeared in the telecommunications sector related to IP communications equipment (CPE): Wireless LAN and Wireless WAN. Both refer to wireless technologies in the office – used  as a means of communication in the LAN-WLAN network and those used as a means to access the WAN-WWAN network.
The strong progress and current capabilities of WLAN and WWAN technologies make it possible in some scenarios to achieve connectivity capabilities that match and sometimes exceed what physical wired media can provide. And this in turn opens a whole world of possibilities that we intend to show here.
A typical CPE (or router) usually has one or more WAN interfaces connecting the office to the telecommunications operator's network, and one or more LAN interfaces connecting local equipment and providing access to the Internet and/or external services. All connections from the CPE to peripheral equipment require physical media (e.g., electrical or fiber optic cabling) in order to maintain active communications and ensure an optimum level of quality. However, with the support of 5G or even predecesor variations of LTE/4G, as well as the high performance afforded by today's Wi-Fi 6, wireless technologies for both LAN and WAN can undoubtedly compete with physical media-based technologies without limiting performance within a consistent range of expectation. Thus, compact WWAN and WLAN routers can be manufactured for fully wireless scenarios.
Three advantages of wireless advantages
There are three main advantages associated with using fully wireless routers to connect customer sites:
 Deployment without cabling installation costs
Although the building may support structured cabling for communications, not all locations are buildings, nor do all customers choose this infrastructure for their connections. Installing cabling in a building requires additional work. As for open spaces without infrastructure, these include events, exhibitions, fairs, but also public transport and mobility. Any CPE capable of routing traffic without the need for cabling is attractive in these spaces.
Optimized device stock management and easy site migration
A wireless WAN router offers compatibility with any site regardless of the type of service connection, as long as it can receive minimum mobile coverage from the operator to maintain the service. This means the router can be located at any customer site without having to modify hardware. Furthermore, when the nature of the customer's business requires rapid deployments or repeat migrations, a Fully Wireless router may be the best option to optimize equipment and operational reserves in deployments.
For example, consider a franchise that opens and closes hundreds of counterpart locations around the world. While each location may use a variety of physical access technologies  (fiber, FTTH, copper, DSLs, or even no connection), the deployment of mobile technology is considerably more homogeneous globally and therefore more compatible with WWAN routers. Thus, routers can be easily migrated from one location to another and reused with no additional equipment cost. If the CPE also includes WLAN, then installing and connecting terminals and users becomes immediate. This same example applies to events, mobility and any business that can migrate locations. Again, any CPE that can route traffic without the need for cabling is attractive in this type of business.
No points of failure in the wiring
The availability of the wireless medium is absolute compared to a physical medium as the latter can be damaged. Physical channels in buildings may deteriorate or be damaged due to construction work outside the site or work inside office rooms. There is also the possibility of accidental disconnections due to human error in the equipment's physical interfaces. All these are failures that interrupt connectivity with a severity inversely proportional to the effectiveness of the backup means implemented. None of this occurs, however, with a fully wireless option whose medium is purely aerial. As you may gather, there is no point of failure between the transmitting and receiving antennas. So, any CPE that can route traffic without the need for cabling is attractive for this purpose.
As we have seen, a wireless context provides the kinds of advantages listed above. However, it is also advisable to consider the well-known limitations of signal attenuation due to distance, materials and interference. This is why choosing the correct location for the device in the office is vital in order to offer an adequate connection service.
In summary, 5G/LTE, and Wi-Fi 6 undoubtedly coexist and merge as irrefutable siblings to offer the greatest simplicity in deployments in today's already highly digitalized world.
Teldat develops fully wireless communications equipment for offices and vertical markets, such as transport and mobility, accepted by numerous organizations and operators.