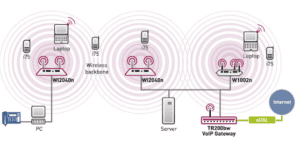 Wireless LAN coverage is nowadays mandatory for more and more customers. Meanwhile, WLAN Site Surveys is not only used for office communication like e-mail or web traffic. By now storekeepers use for instance for bar code scanners with integrated WLAN to register their stock or even the whole storage is fully automated by robots with integrated WLAN modules. In these cases good coverage and roaming without a session time out is a must.
In other scenarios machines are transmitting status information about temperature, errors or they trigger an automatically generated purchase order when new raw materials are needed. In case problems concerning the network arise, it's mandatory to inform the administrator as soon as possible. A high availability network ensures the smooth operation of the whole process otherwise orders couldn't be sent out or a machine could be out of order which results in production timeouts for the customer.
Even in normal office environments the scope of applications has grown extremely. WLAN is used for communication such as Voice over WLAN or Video over WLAN. In these cases fast roaming is vital in order to achieve good voice and video quality.
Besides these challenges mentioned above a further issue concerning the number of wireless LAN devices becomes more and more important. Just a few years ago each person had only one WLAN device. Now, it is quite common that most employees have two or even more wireless LAN devices such as laptops, smartphones, tablet PCs, etc.
Last but not least there is a new growing application area for WLAN such as real-time location systems (RTLS) which are often used together with mobile ward rounds in hospitals.
Nevertheless, the crucial question every system integrator asks himself right from the start of planning a WLAN infrastructure is: How many access points will be needed in this scenario?
It is quite difficult to find a simple answer for this question because besides the various different cases mentioned above, many other factors play a key role in a WLAN project.
Connectivity
Number of clients connecting to each access point
Areas with high density of clients
Bandwidth requirements of clients
Requirements due to latency of clients
Interferences
Further Wi-Fi networks in the neighborhood
Other radio signals like Bluetooth, DECT, video transmission, radar, etc.
Even the spatial conditions such as building, furniture or machines have influences on the Wi-Fi network which is called:
Absorption
Depending on the kind of walls the signal can be reduced (e.g. a ferroconcrete wall has a stronger absorption than a lightweight construction)
Machines with metal housing reflect and absorb the WLAN signal.
High racks absorb the signal and in the spaces between the racks there could be dead zones.
Special installations like air-condition or noise-reduced design in conference rooms have to be considered.
As you can see, it's already in the run-up to the first WLAN measurements very important to collect a lot of information.
The Teldat Sales Engineering team offers "WLAN Site Surveys" as a consulting service. An Ekahau Certified Survey Engineer gives support through the whole phase of planning a WLAN network design with high performance based on the individual requirements of the customer performance.