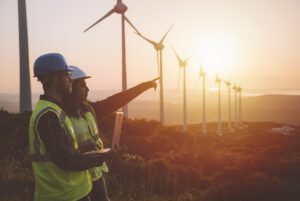 The need for real-time communications in Smart Grid scenarios is becoming increasingly important. One of the most common solutions is to have industrial routers send information securely to the different utility control centers.
Main Advantages
1. Flexibility, because these devices can run on different power sources depending on where they are installed, and have multiple LAN connection options – such as RS232 and RS485 –, a variety of WAN connection options (xDSL, fiber, 4G/3G and Ethernet) and even PLC connection options. This means the device can work as a PLC base node while also providing advanced communications.
2. Simplicity when loading configurations, updates and detecting errors. These devices don't require any qualified personnel on site; they can be installed by any operator via "plug & play" processes – i.e., processes that automatically download the device configuration upon the devices being plugged in. Also, in order to generate these configurations, many tools are available to help simplify these processes through templates and replicate them in multiple devices simultaneously. This is a huge advantage when you consider the numerous devices involved in these sorts of solutions, and also provides a simple way to deploy new devices.
3. Ruggedization. These communications gateways are installed in many different locations, from meter rooms to transformation centers, with many of them in hostile environments. Because of this, these devices have been designed specifically to ensure they provide optimal performance in any environment; they are designed to withstand a wide range of temperatures, humidity and dust, among others, and have been built with electrical and electromagnetic immunity.
4. Security. As many of these devices will be installed in unattended areas, and to ensure that communications are protected, they must be equipped with the most advanced security technology available, such as ACLs, firewalls, IPSec, DMVPNs, 802.1X, etc. This way they can prevent all kinds of attacks and ensure optimal operation throughout the entire communications network.
5. Reliability, because the gateways need to ensure communications continuity at all times. In order to achieve this, the devices are subject to stringent certifications to ensure their hardware is robust. In addition, they offer redundancy options by allowing, for example, several different communications operators to be used with one of them working as a backup for another, thus optimizing service continuity and ensuring always-on communications. They also allow several connectivity options such as xDSL, fiber or PLC.
6. Management tools that provide full network visibility to greatly simplify the tasks of managing and maintaining the communications networks.
7. Effective diagnostic solutions for problem solving via sophisticated monitoring and administration tools that help monitor and manage the installed devices. These tools are usually equipped with alarms and alerts to detect failures in communications and ensure that the network is constantly monitored.
Using communications gateways in Smart Grid deployments provides countless advantages in many different areas: from telemetering processes, which benefit greatly from easier installation processes and new management tools capable of setting up secure networks for always-on smart meter communications, to tele-management, monitoring and automation systems, which adopt many of these benefits to increase reliability, performance and security in their complex sophisticated networks.
All this not to mention management on the part of the large utility company IT departments and infrastructures, which benefit greatly from the ever-growing simplicity of configuration, monitoring and management processes in communications gateway deployments.
For this reason, Teldat Smart Grid offers a wide device portfolio with a range of management tools to help electricity companies find the device that best suits all of their needs.