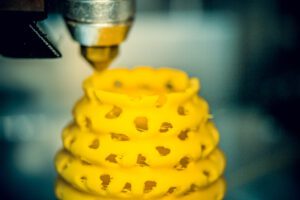 3D printing, also known as direct digital manufacturing or additive manufacturing, has come to revolutionize every sector of industry; at the design level, building prototypes and even serial production, producing fully functional parts for the most demanding of applications quickly, cheaply and accurately.
Briefly, the technique consists of creating physical objects by using a 3D printer to lay down layers of material in order to recreate a previously designed digital model. All 3D printing processes require joint interaction between software – CAD design program, hardware – 3D printer and the materials used to manufacture the prototype.
More recently, advancements in 3D printer technology – which have enabled companies to achieve faster execution times, produce larger component sizes and use entirely new manufacturing materials permitting new more flexible, adaptable and resilient features – have made it possible for us to produce parts using this method for a large range of applications, from tiny parts for watchmaking mechanisms to huge parts for civil engineering uses.
Traditional methods of manufacturing prototypes are unlikely to involve less than several days. The recently incorporated 3D printing techniques allow these very same prototypes to be produced a lot quicker; plus, you can have them manufactured in a reasonable amount of time (i.e., in a matter of minutes or hours).
But 3D printing has not only brought benefits to these more tangible and practical aspects. There is another priceless advantage that we must add to cheaper and faster prototyping, namely that of greater design freedom. Designers can take more risks and try different product solutions and options without delaying the production process.
All these utilities lead to greater assurance of product quality and efficiency, greater speed to market, and more efficient, flexible and productive industrial processes.
Once again, end consumers are the ones benefitting from a technological innovation. Not only because the design and manufacture of new products reaches them faster, with greater innovation capacity and reliability, but also because 3D printing is extending beyond the industrial sector to the domestic sphere. Worldwide sales of 3D printers for domestic tasks are expected to reach over one million units in 2018.
Not wanting to miss out on the advantages of this innovative technique, Teldat has incorporated 3D printing in the parts design and prototyping processes for its communications device housings.