The 5G revolution goes ahead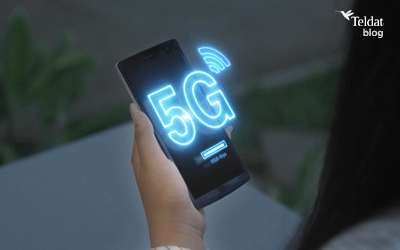 All telecommunication carriers offering mobile solutions are competing to deploy the new 5G network as soon as possible. The latest investments involving the purchase of radio spectrum  must be recouped quickly (offering customers not only broadband connectivity, but also multiple  additional and professional services that were previously unheard of, such as "network slicing").
The new 5G network is clearly becoming the most agile and efficient option to reach the digitalization goals set by the EU for 2030.
However, the radio spectrum is limited, and obsolete technologies (like 2G/3G) occupy an electromagnetic space that could be best used by new 4G/5G technologies to reach their potential (especially when it comes to lower frequencies).
The fact that 2G/3G offer little broadband in data connections, the costly node maintenance per user, and the fact that their energy consumption is high, are key factors for all service providers to set up plans to shutdown these technologies (in a controlled manner).
Shutting down 3G first, followed by 2G
Despite 3G being a newer technology than 2G, it will be the first one to shutdown in Spain and in many other countries.
This is due to the sheer number of M2M terminals/connections that still use 2G technology and do not support 3G. As a result, users will need a longer period to adapt to new solutions like NB-IoT.
If we talk about voice and telephony clients, the 3G market has already been transitioning to new 4G/5G networks for a while. Moreover, we can say that most users changed their terminals a long time ago and switched without problems.
Most Spanish carriers have already begun their 3G shutdown; some of them with an accelerated schedule for 2023 and others at a slower pace (up until the end of 2025).
Despite a closed deadline not always being set for 2G shutdowns, the network will likely stop working by the end of 2030.
How will the shutdown of the 3G network affect users?
When it comes to data connections, when 3G stops working, data flows from devices that use this technology will automatically use 2G instead. This will cause a drop in performance (surfing will be difficult) and network saturation (since it will be simultaneously used by more devices).
M2M connections usually don't need many data, meaning current services likely won't be affected.
Voice calls from 3G terminals will switch to 2G, but new 4G/5G terminals will try to use VoLTE (4G voice) or VoNR (5G voice) if the carrier supports them. If not, this substantial volume of calls will go to 2G. This will deteriorate the quality of conversations and may cause congested networks (even with full coverage, placing calls will be difficult).
The main carriers do support VoLTE. Users belonging to mobile virtual network operators (MVNOs) are the ones that need to check whether VoLTE is available to keep on enjoying reliable calls.
What are the plans of the main Spanish carriers?
Vodafone is winning the 3G shutdown race, having launched the process in The Netherlands in 2020 and in Spain in 2022. The goal is to complete the process, in all of its European headquarters, by 2023.
With this schedule, Vodafone will soon have new freed frequencies to be used by more efficient technologies and will be able to offer an eco-friendly brand image thanks to the energy savings associated to it.
When it comes to 2G, Vodafone will keep the network operating to avoid leaving users with no VoLTE support or non-upgraded terminals without service.
Movistar has already shutdown the 3G network in Germany and wishes to shutdown in Spain by the end of 2025, while fully migrating to fiber and putting an end to the fixed copper network. In addition, Movistar has gone a step further and wishes to shutdown the 2G network on the same date (despite this goal not being formally drawn up).
Like Vodafone, Movistar does not only advocate for the optimization of the radio spectrum to improve performance, but also provides information on the energy savings this decision implies.
Lastly, Orange in Spain will follow the schedule set by Movistar and has also announced the shutdown of the 3G network by 2025. Only countries like France (with a high number of users) plan to keep the 3G network running until 2028.  When it comes to 2G, Orange (like most providers) has delayed the shutdown until 2030.
How will this affect device manufacturers?
Good news! Generally speaking, device manufacturers must play a technical role that always involves getting hold of the latest connection technologies as soon as possible (in order to run them by service providers).
All 2G/3G solution manufacturers who, at the time, were market leaders and are still in business have developed 5G/4G solutions that are compatible with the new radio networks.
Teldat is one of them and is working hard to offer its clients a wide range of advanced 4G/5G solutions that can run in all sorts of IoT or office scenarios.
Sources
https://www.adslzone.net/noticias/operadores/apagado-2g-3g-planes-2022/
https://www.techradar.com/news/vodafone-announces-3g-network-shutdown-5-key-things-you-need-to-know
https://www.marketwatch.com/press-release/2g-and-3g-switch-off-market-business-in-near-future-2023—2030-2023-05-19
https://www.xatakamovil.com/conectividad/voz-4g-5g-ventaja-no-disponible-mayoria-operadores-moviles-que-pronto-sera-imprescindible