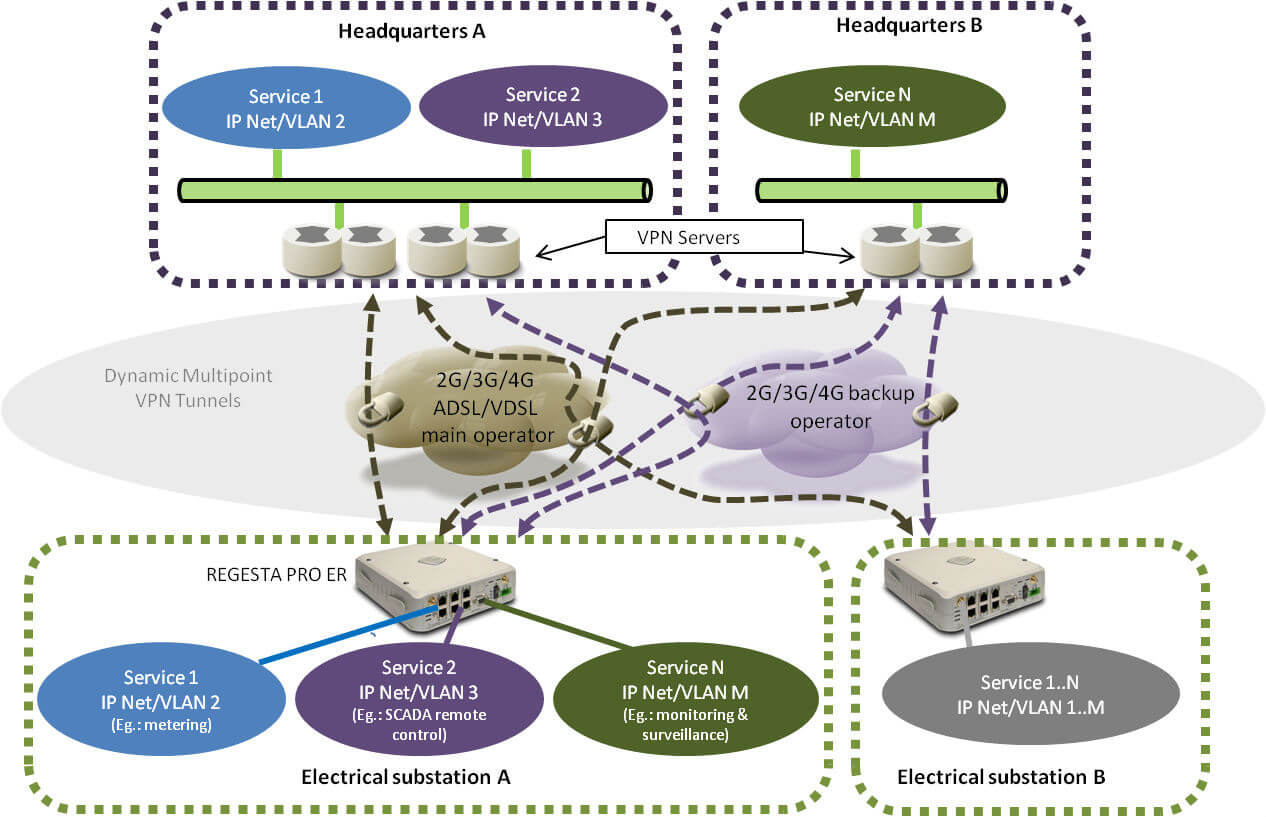 Nowadays the whole electric grid is rapidly changing worldwide. Generation quickly becomes distributed through the use of new renewable energy sources (primarily wind and solar based). Consumption also takes new forms, as users develop new needs through the use of electric vehicles and smart appliances able to select the optimal time to operate. The distribution network has to quickly evolve and adapt to the new generation and consumption scenarios in order to continue to provide the level of service that consumers have come to expect and demand.
The increased complexity of the electric grid cannot be managed with traditional setups. In order to face these new challenges the electric network must be better intercommunicated and it needs to be able to provide its operators with precise and current information. This enables informed decisions and guarantees the continued operation of the grid, while preventing failures which could quickly cascade.
By incorporating telecommunication technologies into the electric grid, many new services for clients can also be realized and management of the whole system becomes easier and cheaper. A comparatively small investment to upgrade the network will quickly pay for itself in the form of more streamlined management and new services for customers.
New possibilities for grid operators
Constant control and monitoring of the electrical substations. Black-outs and overloads can be prevented by monitoring the whole distribution network and watching for signs of problems. Additionally decisions such as when to connect alternative power sources can be taken quickly. Areas with problems are quickly isolated so that they do not affect the rest of the network.
Reduced operation costs. By remotely monitoring the whole system, electrical companies no longer need to send out personnel in order to carry out certain maintenance tasks or to check the status.
Offloading part of the generation costs, as consumers self-generate (but are charged for the management of the system and back-up availability).
Possibility of including new renewable generation sources, with lower OPEX costs and reduced dependencies on varying fuel prices.
Reduced investment in generation due to more stable consumption pattern along the day. Supply can be more constant and the generation no longer needs to cover extreme demand peaks. This leads to less backup generators.
Reduced liability to consumers' compensation for electrical outages.
A secured communications channel that is immune to security threats and can be used for additional services.
New services for consumers
By upgrading its network, the electric operator can offer (and monetize) new services to its consumers, including:
High availability contracts for industrial clients, given the increased reliability of the whole network.
Ability to constantly monitor electrical usage and receive detailed reports. The consumer can invest in more efficient appliances due to a better understanding of their electrical consumption.
Possibility of using new high consumption devices (ex. electric cars) without putting the electrical installation at risk
Possibility to self-generate part of the electrical consumption. Thereby being more resilient to electrical grid failures.
Programming intelligent devices (i.e. washing machine, electrical car, water heater …) to activate in valley consumption periods in order to pay lower electrical prices.
Under certain circumstances, ability to instantaneously change the capacity of their own network. The electrical company can remotely adjust the client's meter (network permitting) to allow higher or lower power consumption.
Teldat provides the communications network for electric operators. It empowers the grid owner with new opportunities while safeguarding its data and infrastructure. Teldat employs the same protocols for which it has gained recognition in critical sectors such as banking, thereby guaranteeing a secure network, protected from intrusions.