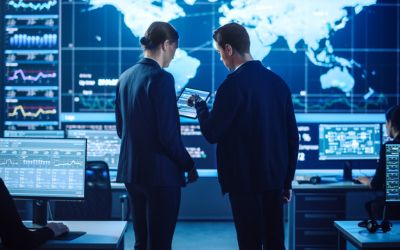 SD-WAN (Software-defined Wide Area Network) technology makes it easier for businesses and organizations to manage the complexity of the WAN networks they work with, while optimizing connectivity costs and improving the experience of employees and customers in the use of critical applications.
According to a recent IDC study based on 650 companies with revenues above €200 million, 96% of the surveyed companies either already use SD-WAN or have plans to do so within two years.
SD-WAN's openness and flexibility have given rise to a wide range of approaches and use cases that businesses can leverage to get the most out of the technology. However, this same diversity could make it more complex to deploy. To this we must add the current convergence of networks and security from a technological and organizational viewpoint.
A company planning to make the leap to SD-WAN in the near future will have to make another strategic decision, in this case concerning the management model and operation to use. In other words, it will have to decide whether it wants to manage the SD-WAN network itself (using its own IT resources) or outsource all or part of the tasks and responsibilities to a managed service provider (MSP).
SD-WAN management models
Apart from the reasons leading a company to decide to migrate to SD-WAN, there are also other important aspects that the company will need to analyze if it is to fully exploit the potential benefits and features of the solution.
The first thing is to evaluate whether it would be better to manage the SD-WAN network using company resources or involve third parties. To do this, the company needs to perform a comprehensive analysis of the capabilities needed to take on the responsibility of the deployments, taking into consideration logistics, configuration, management, and daily operational tasks of the SD-WAN network.
If a company lacks the necessary capabilities but decides to take on the challenge of managing its SD-WAN network with company resources, it will need to assess how much money and time will be required to hire knowledgeable and experienced personnel or provide training to its own IT team.
If, once these aspects have been assessed, the company decides against managing its SD-WAN network, it can opt instead to outsource all or some responsibility to a managed service provider that offers guarantees.
Three models for managing an SD-WAN
Self-management or DIY (do-it-yourself): Here the company is responsible for all aspects related to the management and operation of the SD-WAN network.
Co-management: This involves the company managing certain responsibilities with its own resources (e.g., routing policies and security), while outsourcing daily network operations to an MSP.
Fully managed: the company requires a "turnkey" SD-WAN solution from an MSP. The provider can take responsibility for a range of things from providing connectivity and devices to managing and operating the SD-WAN network, integrating it with the security solution and guaranteeing service levels (SLA).
No one management model is better than another, and each company must make a decision  following careful evaluation of its needs, overall IT strategy, current capabilities, specific network requirements, and historical practices and experience.
For example, a medium-sized company that has a simple network with a small number of access providers and office types, but with qualified personnel, could opt for a DIY model which would give it a high degree of customization and control.
On the other hand, a company with lots of branch offices, cloud-based applications and services, hybrid work and strict network security levels, could outsource the provisioning, management, and day-to-day operations to a managed service provider. This could also provide greater bargaining power with manufacturers and access providers.
Managed service providers include manufacturers, consultants, system integrators and network operators, with the ability to equip and manage, either fully or partially, a company's SD-WAN network. Different suppliers offer different advantages and guarantees, and the company bases its choice on one or more of the following capabilities:
Own or operate the underlay network
Be a developer on the SD-WAN platform.
Have a solid security proposal
Deliver professional and consulting services
Provide a national or international around-the-clock service
Advantages of each SD-WAN model
As mentioned above, no one model is better than another. We can find advantages both if the company decides to manage its SD-WAN using its own resources and if it prefers to outsource this responsibility to a managed service provider.
Self-management / DIY
Some advantages of the self-management or DIY option include:
Control: When a company manages its own SD-WAN, it has more control over how the network is implemented and managed. This means it can adapt the network to meets its own specific needs, thereby improving network performance and efficiency.
Increased internal technical knowledge: A company with a highly trained and experienced IT team would be more likely to want to manage its own SD-WAN network, rather than having to depend on a third party. This way the company has greater control over the network and can quickly and efficiently resolve any technical issues that may arise.
Lower cost in the long run: Companies can save money long term by managing their own SD-WAN network, since they won't have to face the extra costs of a service provider.
Managed Service Provider Model
Here are some advantages for the company if it decides to outsource the management of its SD-WAN to a managed service provider:
Expertise: Choosing a managed service provider with extensive experience in deploying and operating SD-WANs can lead to improved network performance, efficiency, and security.
Cost savings: Outsourcing the task of managing SD-WANs to a reputable third party could prove more cost-effective than hiring or training an in-house IT team to take on this responsibility.
Save time and resources: The service provider can take care of provisioning, configuring, supervising, and maintaining the SD-WAN network, ensuring it is kept up-to-date, secure, and running optimally. This can help the company to focus on its main objectives by relieving time and resources.
Teldat, designs and develops its own SD-WAN solution. It also has a partner network with the capabilities necessary to deliver all the elements (equipment, platform, management) of a complete SD-WAN network for large companies. From June 2023, Telefonica will start offering Teldat's SD-WAN solution to corporate customers as part of its flexWAN services.