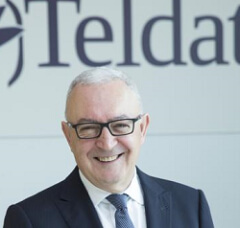 Teldat's turnover reached 63.3 million euros in 2018, meaning the company increased its EBITDA by 5.4% up to €11.7 million (which, in turn, translates into an 18.5% growth on invoicing). During the last financial year, the company invested €8.2 million (13% of income) in R&D&I. This represents a 12.7% increase with respect to 2017, with the forecast for the current year reaching 15.9%. In 2019, the expected turnover is close to €65 million.
62.2% of Teldat's turnover comes from external markets. bintec elmeg, our German subsidiary headquartered in Nuremberg, is responsible for 43.3% of the total income (or 27.4 million euros). Sales in Spain amounted to €23.9 million and were followed, in terms of turnover volume, by Mexico, Peru, Portugal, Austria, Italy, France, Taiwan and USA.
During 2018, Teldat was honored to be positioned by Gartner in the Magic Quadrant for WAN Edge Infrastructure. Hence, Teldat, a Spanish manufacturer, has become one of the leading companies in  SD-WAN network solutions. Company voices have stated that "Teldat's goal is to keep making progress towards fully virtualized or software-defined networks (be them WAN, LAN, voice, etc.), both for SMEs and large corporations".
In the words of our President, Antonio García Marcos: "We are proud to be one of the leading European companies when it comes to designing SD-WAN network solutions for the international market, thus garnering global prestige for Spain's technology industry. By focusing on R&D&I over the years, we have managed to compete with the largest players in corporate communications and preserve our identity whilst navigating through paradigm shifts (X.25, ATM, IP, Cloud and SD-WAN)". In this regard, we must note that "in Teldat, we have updated and revamped our technology to meet the requirements of new scenarios. The only manner in which we can constantly come up with new improvements to beat our competitors is to obtain measurable and specific results within our annual R&D&I activity".
Our financial results have received extensive media coverage, in both business and IT/Telecommunication publications.