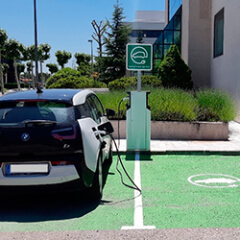 As part of our commitment to continually enhance the Environmental Management System that we have in place, we have published information on Teldat's environmental behaviour and performance to make Teldat's contributions to sustainable development known. Those interested can now access the Environmental Performance page in our website.
The tables that appear in the page are particularly interesting, since they break down all the environmental aspects we have managed to link to Teldat's activity and their evolution over the years, as well as the key monitoring indicators we have set up related to the environment.  On the basis of the results obtained this past year, Teldat has set two environmental goals for 2018. One of them is to promote the use of cars that do not run on fossil fuels amongst its employees. To do so, the company has installed a charging point for electric vehicles in the parking area (as shown in the attached image).
So, Teldat's website is already home to an Environmental Performance page that publishes any information that may prove relevant and another page that contains the following three items:
·        Quality and Environmental Policy.
·        Corporate Social Responsibility (CSR) Policy.
·        Quality and Environmental Management Certificates. These documents, which comply with the UNE-EN-ISO 9001 and UNE-EN-ISO 14001 standards, can be directly downloaded from our pages.