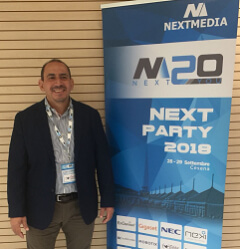 This year was the 20th Anniversary of NextParty. The annual event organized by Nextmedia, the Italian organization that has over 200 partners; resellers, integrators, ISPs and of course telecommunication manufacturers, such as Teldat. Indeed, elmeg, which is part of the Teldat Group has worked with Nextmedia since the first event was held.
Apart from having a stand at the show where many of our products were displayed for Nextmedia partners to see, Elhamy El Hifnawy made an introductory presentation about Teldat and an overview for its current solution portfolio to all the attendees. Then to a more specific audience, Elhamy went into detail on specific products such as the Teldat RS123 and the Cloud NetManager (CNM).
The partners also had an opportunity to relax on Friday evening and Saturday, during the different social events and activities that Nextmedia had organized.