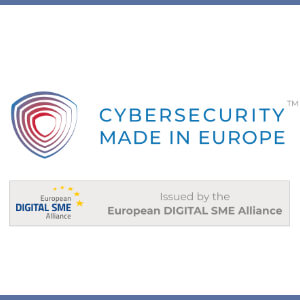 Teldat has been assigned the new European label, "Cybersecurity Made in Europe", via the European DIGITAL SME Alliance, which is the largest network of ICT small and medium enterprises in Europe, representing more than 45,000 companies, which includes 30 national and regional SME associations from EU member states and neighbouring countries. All aimed at the exchange of experiences and know-how, to carry out actions at a European level.
The new label distinguishes European "cybersecurity greatness" to promote European companies that produce cybersecurity solutions, such as Teldat.
What are the key benefits that can be gained by having this label?
Market differentiator: All European cybersecurity enterprises have to adhere to strict privacy and data protection rules, based on GDPR, where as companies in other world regions do not have them.
Strategic value: this label makes it much easier to distinguish those companies that customers can trust.
Visibility: the alliance will raise awareness of the label, and those companies that carry the label.
Sergio Peleato, the Cybersecurity CBO at Teldat explains, "the fact that Teldat has been assigned this label, clearly differentiates our cybersecurity solutions, whether these are based on XDR (Extended Detection & Response), CARTA (Continuous Adaptive Risk and Trust Assessment), ZTNA and CASB among others, as well as the extensive use of Artificial Intelligence within cybersecurity".
If you wish to investigate our cybersecurity solutions, in more detail click on our web page SOLUTIONS mega menu: Network Security and Advanced Networking.