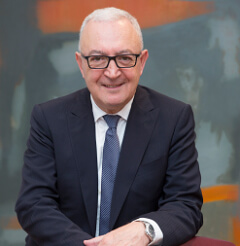 The publication talks about Teldat's progress from its beginnings in 1985 to becoming a European reference in the corporate network global market, mentioning the fact that Teldat was recently positioned by Gartner as a leading international supplier of SD-WAN solutions.
The article describes how Antonio García Marcos started out with two partners and some students, and how back then he never imagined that a few decades later leading international operators, electricity companies, banks, railroads and many other large corporations from various sectors, would factor among Teldat's clients.
All of this with a market penetration that allows us to be present in 44 countries, although, as our president states, "we work mainly in Europe and Latin America". The article also mentions the company's position in Germany, where we serve more than 250,000 companies from our Nüremberg subsidiary.
The article goes on to highlight the investment Teldat devotes to its R&D&I division – with one hundred engineers dedicated to new product research and development. Thanks to them and the rest of the Teldat team, the company is financially solvent, which increases the effort dedicated to innovation. The article gets across our company's experience and reliability, pillars that strengthen our position as leaders in the corporate network market.