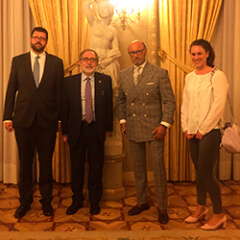 The Royal Academy of Engineering (RAI) recently hosted the Smart Railways Technical Group Session held by the Official College of Telecommunication Engineers (COIT). The conference was dedicated to the basic incorporation of communications devoted to railway operations, as well as those linked to passenger services.
The event was opened by Antonio Fernández-Paniagua, the Assistant Director General of Espectro Radioeléctrico Planning and Management, Eugenio Fontán, Dean and President for COIT and José Ignacio Alonso, coordinator for the COIT Smart Railway Work Group. The latter highlighted how the future of railways is inextricably linked to Smart Trains. That is, a Digital Railway or Connected Trains that will allow future developments in digital communications and 5G systems to offer railway security and meet passenger demands for connectivity.
Francisco Guerrero, Teldat's Product Marketing VP, who is part of the COIT work group, together with various TIC colleagues and professionals (coordinated by José Ignacio Alonso), spoke on the possible use of 5G in the near future in the railway sector. He discussed railway control and maintenance where ultra-reliable communications were essential, besides the use of broadband to increase services offered to passengers. He also expressed the opinion that a gradual improvement to broadband would be seen over the next couple of years (2019-20) although, until 2020-21, applications able to use ultra-reliable, low latency functionalities would not appear.
For Teldat, the railway sector is one of the principal vertical markets. This is proven by the presence of Teldat's products in high-speed train projects.
Photo album of the event show Francisco Guerrero and other Teldat colleagues, including Emilio Lanuza, Institutional Relations VP, and Aida Suarez, Industrial Business Line Manager.