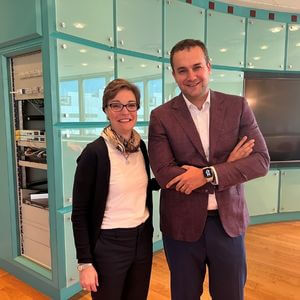 A delegation from the COIT (Official College of Telecommunication Engineers), headed by its dean-president Marta Balenciaga, has visited the headquarters of the Spanish technology company Teldat.
The COIT delegation was welcomed by the Teldat staff, headed by their new CEO, Antonio Garcia Romero. After touring the company's facilities, located in the Madrid Technology Park (PTM) in Tres Cantos, Marta Balenciaga praised the trajectory of a Spanish company that has managed to survive four decades being able to adapt to changing technological standards and is a European reference in the development and design of advanced communications solutions.
During the visit, the COIT delegation explained the advantages of being a member of the COIT to the Teldat engineers, who make up the majority of the company's employees. The immediate consequence was that the Teldat's CEO, Antonio Garcia Romero, a Telecommunication Engineer, signed up as a member of the COIT at the same event, offering the COIT his personal collaboration and that of the company to strengthen the corporate sense of the collegiate body.
García Romero, who thanked the COIT for the visit, felt proud to be taking the reins of a Spanish technology company about to celebrate its 40th anniversary and which has already left its international mark, and at the same time remarked on the challenge of continuing to make history after having taken over such a valuable baton. Teldat, which in the year 2022 has grown by 23%, considers the crisis caused by the pandemic to have been overcome and looks to the future with optimism. The company will continue its efforts in R+D+i to develop innovative solutions, one of Teldat's hallmarks.
In addition to the president-dean, the COIT delegation that visited Teldat was made up of the vice-dean Juan Carlos Lopez, the vice-secretary Jose Luis Ruiz, the treasurer Evaristo Abril, and the member Antonio Portilla.