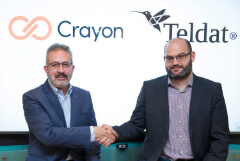 Crayon Group Holding ASA (OSE: CRAYON), a world leader in digital transformation services, reinforces its IT BAC (Business Advisory Consulting) absolute advisory service with advanced communications technology from global provider Teldat to optimize organizations' network resources in their migration to the cloud and ensure high performance of remote offices.
Both in cloud migration plans and, in the deployment, and maintenance of remote work environments, the communications network is a key asset for success. In this field, Crayon has reached a collaboration agreement with Teldat, a Spanish company specializing in the design, manufacture, and distribution of communication solutions, to reinforce their absolut IT BAC service, an analysis methodology aimed at identifying the challenges and objectives of each business within the cloud environment.
At the same time, Teldat will be able to offer their clients this Crayon service as well as the other services that make up their integral platform of absolute IT services, whose objective is to offer advice so that each company can carry out an integral management of their software assets and cloud resources, getting the most out of their IT investments.
Supported by Teldat's be.Analyzer platform as a network monitoring and diagnostic tool, Crayon's professionals will analyze the communications needs associated with migration to the cloud and provide key information regarding bandwidth consumption, network congestion detection, application usage and the necessary sizing. All this facilitates decision making and the design of solutions aimed at achieving cost savings and rationalization of bandwidth consumption.
Crayon's absolut IT BAC consulting service provides a roadmap, a qualified team, project governance and investment optimization, segmented into three phases:
Discovery: Conducting technical interviews, as well as a study of solutions, requirements, and dependencies to plan a global vision of the required service.
Assestment: Study of the data collected in the Discovery phase and preparation of a draft with the basis of the cloud business required by the client.
Alignment: Design of a cloud model integrating the client's policy, infrastructure and operational layers according to the company's IT needs, as well as business continuity requirements, security and user profiles, including the bandwidth consumption of the cloud applications (based on Teldat's be.Analyzer).
"Teldat's technology allows us to achieve maximum insight into network traffic and application usage to offer our customers a Cloud Vision that takes into account all levels of the business," said José Manuel Bernal, Director of Services at Crayon. "The agreement with Teldat perfectly exemplifies our strategy of collaboration with our partners. By working together, we can design a more complete proposal with greater value for our clients' business. It is a win-win scenario that increases our competitiveness and that of our partners, as well as being of clear benefit to the organizations we are targeting."
"Teldat and Crayon are a perfect match to promote and implement our software solutions at an even faster speed; we look forward to this new and exciting Alliance", said Sergio Peleato, Chief Business Officer (Cloud) at Teldat.