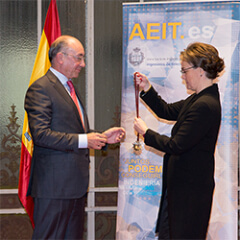 Telecommunications Engineers, through the Official College and Spanish Association of Telecommunications Engineers (COIT and AEIT),  have recognized Ignacio Villaseca with  the "2019 Engineer of the Year" award. Villaseca, CEO of the Spanish technological firm Teldat, received the award from COIT dean and AEIT President Marta Balenciaga at a tribute dinner held in the Casino of Madrid.
The award was presented by Teldat's President and founder and former "Engineer of the Year" winner (2000) Antonio García Marcos. García Marcos praised Villaseca for his professional abilities, crediting him with having successfully managed Teldat for more than 25 years. He also drew attention to his personal skills, his multi-faceted personality and knowledge in different fields.
The event was attended by the Minister of Science, Innovation and Universities, Pedro Duque, and other institutional representatives, including (among others) Fernando de Pablo, Secretary of State for the  Ministry of Territorial Policy and Public Function; Bernardo Lorenzo, Advisor to the National Markets and Competition Commission (CNMC); Roberto Sánchez, General Director of Telecommunications and Information Technology of the Secretary of State for Digital Advancement (of the Ministry of Economy and Business); and Carolina Pascual, Valencia's Regional Minister of Innovation, Universities, Science and Society.
Ignacio Villaseca received a degree in Telecommunications Engineering from  Madrid's Polytechnic University (1981) and an MBA from IESE Business School (1990). He is  currently the CEO of Teldat having joined the company in 1992 as Managing Director and member of the Board of Directors. Through this award, COIT and AEIT recognize Villaseca's and Teldat's key contribution to the Spanish telecommunications sector.
Pedro Duque, Minister of Science, Innovation and Universities also took part in the 2019 Engineer of the Year dinner. This event also provides an opportunity for outstanding personalities from the academic and business world connected to the telecommunication sector to gather annually.
Pedro Duque thanked the "COIT and AEIT for inviting him to the event" and congratulated "Ignacio Villaseca on his desgnation". The minister of Science, Innovation and Universities stated in his speech that "technology is becoming more and more important in our lives. That is why it is imperative that young people, including women, choose to study engineering". Duque ended his speech by pointing out that "Professional Colleges are still an important means of guaranteeing quality".
Commenting on the 2019 Engineer of the Year award, Villaseca said "it gives me great pleasure to receive this award", and recall "the many hundreds of engineers who work or have worked in Teldat, and whose efforts have contributed over more than 30 years to building an international telecommunications engineering company in a very competitive and changeable sector".
For her part, Marta Balenciaga said in her speech that "Ignacio has managed to guide Teldat through more than 25 years of frantic technological change and turn it into one Spain's benchmark companies in the telecommunications sector, both at a national and international level. With this award, we as Telecommunications Engineers wish to highlight his solid professional career and firm commitment to the profession and entire telecommunications sector".
Created by the COIT and AEIT in 1982, the "Engineer of the Year" award aims to annually recognize the award-winning engineer's personal and professional career. Winners so far have included the likes of: Cayetano Carbajo, Carlos Espinós, Pedro Jurado, Alberto Rodríguez Raposo, Reinaldo Rodríguez, Bernardo Lorenzo, Antonio Luque, Francisco Ros, Mateo Valero, Francisco Román, Julio Linares, Luis Álvarez Satorre, Emma Fernández, Rafael Gallego, Miguel Ángel Panduro and Cristina Álvarez. Ignacio Villaseca takes over from Nuria Oliver, who picked up the award in 2018.
To see the Flickr album with the photos taken at the ceremony, click here…