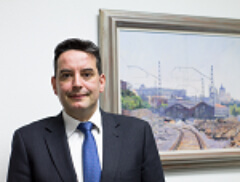 Sergio Chamizo, Teldat Group's finance director, has been named in the Top 100 Finance Directors of the Year ranking, carried out annually by Actualidad Económica magazine and the global network of professional financial services firms, KPMG.
This award, which is in its ninth edition, acknowledges the work and performance of professional managers dedicated to finance in Spain. The ranking has been published in this month's edition of Actualidad Económica with the formal award ceremony set to take place next March.
Teldat Group's Finance Director, Sergio Chamizo, admits that the main role of the Finance Director is to adapt financial strategy to both the characteristics of the sector that the company is operating in, and to the growth phase that the company is in. Likewise, optimizing tax expenses, minimizing financial cost, risk management and economic analysis for decision making are also essential practices.
Despite being honored and extremely proud to receive such an award, Sergio Chamizo points out that the award is also in recognition of the extraordinary work put in by Teldat Group's entire Finance Department.