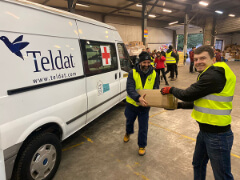 The solidarity expedition promoted by the DIY Ukraine organization, supported by a multitude of companies including Teldat, and made up of a convoy of 22 vans full of humanitarian aid, left Madrid on April 3rd.
After a journey of more than 2,800 km they arrived in Poland to see the enormous efforts being made by the Polish government to provide humanitarian aid to their Ukrainian neighbors who are crossing the border fleeing from misfortune. There they unloaded the humanitarian aid which left shortly afterwards for Odessa. The vans returned to Madrid on April 10th full of Ukrainian refugees. Thanks to this initiative, 75 people have the opportunity to start a new life in a country far from war.
Mario Aguilar Alonso (Teldat Chief Revenue Officer), who has been one of the main driving forces behind the expedition and the heart of it, tells us "I feel very fortunate for the team that surrounds me on a daily basis and that has supported me on this very special and necessary trip. I want to give special thanks to my colleagues Juan Perez, Javier Perez, Jorge Parra, Julien Lacoste and Alexander Lopez for their help in overcoming the adversities of the trip. I am already thinking about the next initiatives to be implemented so that I can continue to contribute a grain of sand in this situation and fortunately I still have the support of Teldat and hopefully many more colleagues from the company as well".
From Teldat we would like to thank Mario for giving us the opportunity to participate in such a necessary initiative, we are very proud of you!
By clicking here you can see an album that compiles some photos of the solidarity expedition.