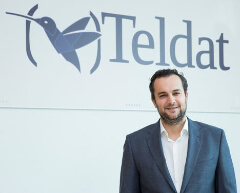 In the economiadehoy.es interview, Antonio Garcia Romero (Director of Technology and Product Strategy), analyzes the transformation in which the telecommunications sector is currently undergoing.
Antonio explains Teldat's strategy to tackle this transformation: "We anticipate the needs of our clients by providing them with the cutting edge in intelligent corporate networks, the field of cybersecurity and IoT devices with the latest 5G technology", as well as other very important technologies such as SD-WAN.
Antonio also emphasizes that Teldat does not only plan at a national market level, but futhermore at an international scale, highlighting the fact that more than 70% of Teldat's turnover comes from international markets, both from operations in Latin America and in Europe (including the support of our German subsidiary bintec elmeg) as well as many other regions.
When asked about the talent drain in his country, Antonio affirms that in Spain "we have an inexhaustible talent pool" and it is important that Spanish companies take advantage of this talent for their development. To read the full interview in economiadehoy.es, click here.