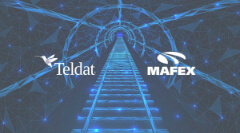 Teldat joins MAFEX as a member. The association, created in 2004, acts as a facilitating agent through the implementation of initiatives in the areas of sector representation and institutional relations, internationalization, innovation, strategic vigilance and communication, thus allowing them to reinforce the competitiveness and global presence of their members through cooperation and the use of joint capacities. Teldat thus reinforces its position in the railway sector, in which it stands out for its train-ground connectivity and on-board communications solutions that allow the digitalization of train fleets all over the world.
In one of their first actions together, both institutions have collaborated on the latest issue of MAFEX magazine.
Follow this link to see Teldat's contribution to the magazine.
Fernando Rojo, IOT & Mobility Sales Director at Teldat, points out that "Teldat is the largest manufacturer of access and communication routers in Europe and by collaborating with MAFEX, we are seeking ways and strategic alliances to help bring our innovative solutions to the railway and transport market on a national and international level".
Teldat's Business Development Manager, Christian Tovar, adds that "we are delighted to be working with Spain's main railway association, to receive and provide knowledge on the demanding requirements of the market and increase visibility of our expertise and our connectivity and digitalization solutions to customers".