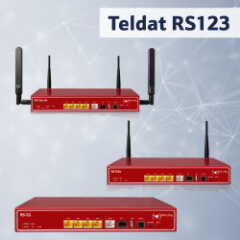 Teldat presents its latest advanced IP communications solution offer: the RS123. These routers are especially designed for remote offices and come fully equipped with a range of interfaces from Combo Ethernet/Fiber and GE switch to 4G/LTE and WLAN.
Teldat has already successfully deployed thousands of devices at client facilities. These new routers share the same operating system, which is a competitive advantage as it minimizes the efforts service providers have to invest in integrating this new family into their portfolio. Moreover, these devices can be centrally managed by means of the Cloud Net Manager tool, making network deployment and optimization much easier.
Teldat's new RS123 range of routers: a powerful integral solution that satisfies communication services for companies at a professional class level and, furthermore, their need for variety of service.
For further information, please visit the RS123 product page in our web.