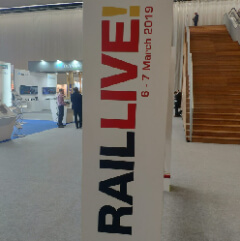 Teldat team members from different departments who are directly involved within the Teldat train and rail solution, visited the Rail Live! 2019 exhibition and congress in Bilbao (Spain), which took place between 5th and 7th March.
At this event there were many important stakeholders within the rail and train industry, of which over 300 were speakers presenting the latest railway market developments, as well as approximately 150 exhibitors; train operators, train manufacturers were exhibiting, as well as the sector's component manufacturers of all dimensions.
Aida Suarez, Business Line Manager for Railway solutions at Teldat, said, "I found Rail Live! 2019 most interesting. Overall, I would summarize saying it is clear that the railway industry is steadily progressing in its path towards a digital transformation in all areas." Aida will be summarizing her experience at Rail Live! 2019, in a blog post, which will be published next week, on the Teldat Blog.
For Teldat it was a perfect opportunity to see all the latest market developments and to catch up with clients and partners. Our company offers the Teldat rail and train solution, that has been deployed in countries across the globe.