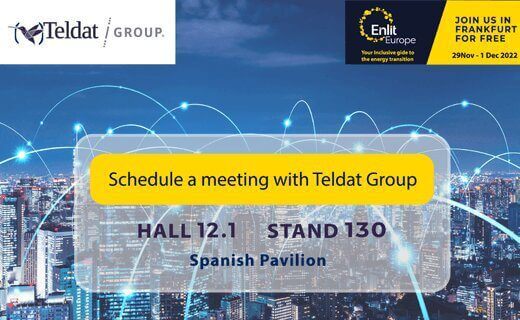 Teldat will be present at
ENLIT Europe 2022
. This event focues on the utilities sector and will be held from 29th November to 1st December in Frankfurt (Germany). This is a forum where products and services related to energy transition, network optimization, customer management, big data, transmission, distribution, metering systems, monitoring and all types of solutions related to these areas will be presented.
The event will seek to answer questions such as: How can Europe avoid a cold winter, meet REPowerEU targets and achieve the 2030 goals? Or what is the right energy mix for Europe?
"We are delighted to participate in this edition of ENLIT Europe, where we will showcase our solutions for Smart Grid, communications (Regesta) and Cybersecurity (be.OT), says Antonio García Romero, Teldat CEO, "solutions that can provide perimeter security, centralized management with distributed security, dedicated sub-process intelligence and prevention of zero-day attacks by integrating dedicated AI models. Our company's CEO assures that it is very important for Teldat to be perceived as a player in the energy chain at European level and with greater emphasis in Germany, where the Teldat Group has offices.
In 2021 ENLIT Europe had 506 exhibitors from 42 countries and 10,000 professional visitors. This year, Teldat will be one of the four Spanish companies participating in this year's edition of the event in Hall 12.1 Stand 130, within the Spanish pavilion organized by ICEX (Spain Export & Investment body).
Access our posts on Linkedin, to see the latest publications about our presence at ENLIT Europe 2022. Whether to make appointments with our specialists, get our new datasheet or more.