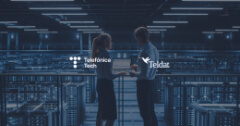 Madrid, 11 th March 2022. Telefónica Tech will be a technological partner for the Teldat Group to accelerate the digital transformation of its clients. The company has chosen Telefónica Tech's public cloud product, based on the Google Cloud platform (which forms part of Telefónica Tech's portfolio thanks to a strategic alliance with the American company), to develop a unique strategic SD-WAN solution for the corporate world.
Telefónica Tech offers the Teldat Group a full range of professional and managed services capabilities, expertise, and talent (thanks to its acquisition of Altostratus) to provide a unique, robust SD-WAN solution with great potential for the business sector. Its implementation will allow the Teldat Group to significantly decrease the development and deployment time of the service, carry out artificial intelligence-based monitoring and increase its scalability.
The solution is particularly aimed at those clients that want a gradual transition from traditional networking to full SD-WAN. Courtesy of Google Cloud technology, it has a clean secure environment, and provides a great user experience through an accessible, easy-to-use platform, which also supports integration with Kubernetes and microservices.
Mario Aguilar, Teldat's Chief Sales Officer, highlights: "It's not a question of Cloud or Edge Computing, it's how to combine both. The alliance between Telefónica Tech and Teldat will lead the future of telecommunications".
Hugo de los Santos, Director of Cloud and Cybersecurity Products and Services at Telefónica Tech, says: "This agreement with the Teldat Group shows our commitment to supporting companies in their digital transition by providing unique services and solutions thanks to our own capabilities and the alliances we have with leading hyperscalers such as, in this case, Google Cloud".