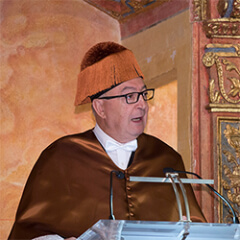 The University of Alcalá de Henares, founded by Cardinal Cisneros in 1499, was the result of the Renaissance and humanistic trends that swiped through Europe and home to the cultivated aristocracy that made Spain's Golden Age possible. For the first time ever, this distinguished institution has invested an engineer, Antonio García Marcos, founder and President of Teldat, with the title of Doctor Honoris Causa.
In the interview held with the University's communications portal, our President (who has previously stated how "happy and honored" he is after receiving such an award) analyzed his professional career and reflected on how the University can foster entrepreneurship: "entrepreneurship has its own methodology, and universities must act as drivers to foster cross-cutting growth". Moreover, he explained how Teldat has remained closely linked to the University since its incorporation in 1985, "we have always remained in touch because we firmly believe Spanish universities are sources of knowledge and innovation. As a matter of fact, there are plenty of technological research projects in which universities played a crucial role".
Antonio García Marcos went on to explain how Teldat has become one of the key global players in its field, favoring data transmission in an industry that is always evolving, and how backing R&D has proven to be a successful strategy.
All of this, and much more, can be found in the interview published by UAH's online portal.