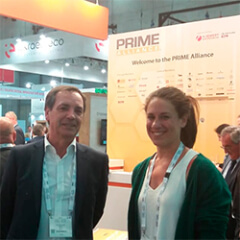 Teldat was present at the European Utility Week, which this year was held in Vienna. A large event focused on the worldwide energy and Smart Grid market.
Andres Monterrubio, Business Development Manager, says "The European Utility Week is the best showcase for innovative solutions and to forge partnerships with technology firms ready to step up to the challenges of utility companies."
Andres Monterrubio goes onto explain, "We are witnessing a real boom in the transformation and deployment of new electricity grids. As a result, the coming years will bring plenty of challenges and opportunities for telecommunication companies, such as Teldat, to develop tailored solutions".
Teldat's Regesta Compact PLC router was on display at the PRIME Alliance stand of which Teldat is a member. This organization is consolidated and worldwide PLC standard for Advanced Metering, Grid Control and Asset Monitoring applications.
Moreover, Teldat's other utility routers, Regesta PRO-ER and Regesta Lite were also discussed at the trade fair, as all our Regesta product line provide specific solutions for the Utilities and Smart Grid market, such as Smart Metering and Automation.
It was gratifying to meet our partners, clients and new contacts at the event.
Please, take a look at our Flickr album with photos that we took at this event in Austria.