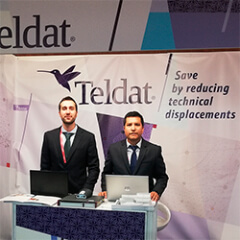 Teldat was pleased to take part in the ATM & Payments Innovation Summit, held this year at the spectacular venue of the Eurostars Madrid Tower Hotel. Indeed, ATMs or cash point machines is a market segment in which Teldat has vast experience.
Fernando Rojo, VP for International Sales, explains, "Teldat routers had been connecting ATMs to bank branch networks for years. However, we were innovators and market leaders with remote site ATM installations, being able to install fully advanced IP cellular routers since digital mobile networks came into play." It was this ability to use cellular connectivity, that allowed the banks to have real remote ATMs that could be installed anywhere, without having to worry about cable connection.
Fernando goes onto explain, "Teldat has kept on innovating in ATM connectivity and we released the Telecontrol+ (MTC+) module soon after. A device which has the ability to control the power supply of remote ATMs via IP and hence automatically restart cash machines from a shutdown state".
Teldat was able to present this Telecontrol+ (MTC+) module, as well as our current compact advanced IP routers such as the Teldat-M1 and the Teldat-V routers used for ATM and payment machines.
It was a pleasure meeting our partners, clients and new contacts who visited our stand at the event.
Please, take a look at our Flickr album with photos that we took at this summit in Madrid.